For some reason lately, I'm always craving Mediterranean food. I love the flavor combination of lemon and chicken so when I found this recipe I knew I had to tell someone. Its a great time to BBQ in San Diego even though its a little colder this time of year. Football season is coming to a close and the Sun warms us up during the day, so grab your grill and enjoy!
Grilled Lemon Yogurt Chicken
Ingredients:
1/2 cup plain low-fat Greek yogurt
1/2 lemon, juiced 1 tablespoon lemon zest
1 tablespoon olive oil
4 cloves garlic, crushed
1 tablespoon paprika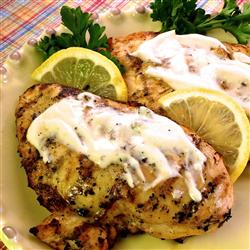 1 teaspoon herbes de Provence
1 teaspoon salt
1 teaspoon ground black pepper
1 (5 pound) whole chicken, cut into 8 pieces
1/2 cup plain low-fat Greek yogurt
1 tablespoon lemon juice
1 teaspoon harissa
1 pinch salt
Directions:
1. Whisk together the 1/2 cup yogurt, the juice from 1/2 lemon, lemon zest, olive . oil, garlic, paprika, herbes de Provence, 1 teaspoon salt, and black pepper in a bowl. Pour into a resealable plastic bag. Add chicken, coat with the marinade, squeeze out excess air, and seal the bag. Marinate in refrigerator for at least 3 hours.
2. Preheat an outdoor grill for medium-high heat, and lightly oil the grate.
3. Combine 1/2 cup yogurt, 1 tablespoon lemon juice, and harissa in a small bowl. Set aside.
4. Remove chicken from bag and transfer to a plate or baking sheet lined with paper towels. Pat chicken pieces dry with more paper towels. Season with pinch of salt.
5. Grill chicken, skin-side down, on the preheated grill for 2 minutes. Turn each piece and move to indirect heat.
6. Grill, turning often, with lid down until well-browned and meat is no longer pink in the center, 30 to 35 minutes. An instant-read thermometer inserted into the thickest part of the thigh, near the bone, should read 180 degrees F (82 degrees C).
7. Serve chicken with the yogurt harissa mixture on the side.
My best friend Malcolm made jalapeño poppers last week. It was the first time I actually liked them so I found a recipe just in case I want them again. I like this recipe because it doesn't require making a dipping sauce but you can always make one to go with it. They're very easy to make and are great appetizers.
Grilled Bacon Jalapeno Wraps
Ingredients: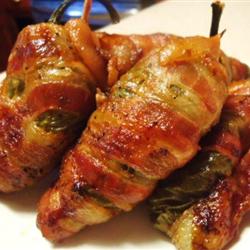 6 fresh jalapeno peppers, halved lengthwise and seeded
1 (8 ounce) package cream cheese
12 slices bacon
Note: I thought this recipe was very creative and sounded tasty. I would even throw in some grilled chicken even though it doesn't need it. Get the whole family involved because making these will be fun.
Mexican Sushi
Ingredients:
3 ounces low-fat cream cheese, softened
1 1/2 tablespoons seeded and finely chopped chipotle in adobo
1 large plain flour tortilla
1 large tomato-flavored tortilla
1 large spinach-flavored tortilla
3/4 cup low-fat refried black beans
6 tablespoons pico de gallo salsa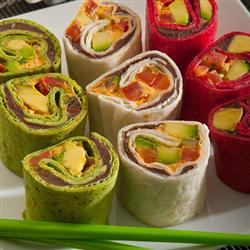 1 1/2 Avocados from Mexico, peeled, pitted and diced
3/4 cup chopped cilantro leaves
cream cheese and chipotle. Heat tortillas in microwave or oven to soften. Spread each tortilla with 2 Tbsp. chipotle cream cheese, 1/4 cup black beans and 2 Tbsp. salsa. Scatter one-third of the avocado and cilantro on each.
2. Roll up tortillas tightly; wrap in plastic wrap and refrigerate. To serve, unwrap and trim ends; cut each roll across into 6 pieces.
Recipes contributed by Charles DeJesus.  Charles is currently a student at Southwestern College and, formerly a culinary specialist in the United States Navy.