Soups are a popular beginning for meals on Puerto Rico.
I think every ingredient deserves its own dish. This next recipe features celery as its main ingredient, while being complimented with leeks and a creamy soup base that will be refreshingly warm on a cold day.
Creamy Celery Soup Recipe
Ingredients:
3 Tbsp butter, divided into 2 Tbsp and 1 Tbsp
1 cup chopped onion
1 1/2 cups sliced leeks, white and light green parts only
5 cups of chopped celery, and 1 1/2 cups of diced celery  (from one large bunch of celery or two small bunches)
2 cloves garlic, minced
2 bay leaves
4 cups chicken stock
1/2 teaspoon to 1 1/2 teaspoons of salt, to taste
1/4 to 1/3 cup of cream
Freshly ground black pepper to taste
Fresh chopped chives or parsley for garnish
Directions:
1. Melt 2 Tbsp butter in a thick-bottomed 4 to 5 quart pot on medium heat. Add the diced onion, the leaks, and 5 cups of the chopped celery. Cook on medium heat for 10 minutes until softened. Add the minced garlic and cook for a minute more.
2. Add the chicken stock and bay leaves to the pot. Taste for salt and add salt. (If you are using unsalted butter and unsalted stock, you will need to add more salt than you expect, if not, maybe just a little salt will be needed.) Increase heat to bring to a boil, reduce heat to low and cover to maintain a simmer. Simmer for 15 minutes.
3. While the soup is simmering, prepare the extra celery that will be added later to the soup. In a separate small sauté pan, melt 1 Tbsp of butter on medium heat. Add 1 1/2 cups diced celery to the butter. Ladle 1/2 cup of the simmering stock from the soup pot into the sauté pan. Simmer on low for 5 or 6 minutes to soften the celery. Set aside.
4. Remove the soup pot from heat, let cool slightly. Remove and discard the bay leaves. Working in batches, purée the soup in a blender, filling the blender no more than a third full at a time (keep your hand on the lid so the hot liquid doesn't explode). Return the puréed soup to the pot. Stir in the cream and the braised diced celery. Taste for salt and add more if needed. Sprinkle with freshly ground black pepper and chopped chives or parsley to serve.
 ———————————————————————————————————————-
When I visit home every so often my grandmother always cooks a big meal to celebrate my return. One of her best dishes is roast pork. She slow roasts it for several hours leaving the meat tender and juicy. My favorite part is the skin because it gets crunchy, similar to pork rinds. The best park of this dish is the leftovers because you can use it to make many other delicious recipes.
Puerto Rican Pork Roast
Ingredients:
8 cloves garlic (peeled)
1/4 cup salt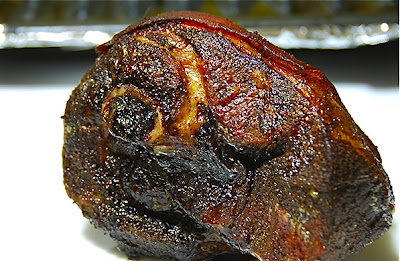 1/4 cup black pepper
2 tsps fresh oregano (chopped)
3 tbsps olive oil
10 lbs pork picnic roast
4 roots (yucca cassava, peeled and sliced)
Directions:
1. Preheat the oven to 425 degrees F (220 degrees C).
2. Place the garlic, salt, pepper, oregano, and olive oil into the container of a food processor or blender. Process until smooth. Use a small knife to make several incisions in the fresh ham. Insert the garlic paste into each one using a small spoon. Place the ham in a roaster, and cover.
3. Bake for 1 1/2 hours in the preheated oven, then check every 15 minutes or so, until the internal temperature reaches 175 degrees F ( 80 degrees C) when taken with a meat thermometer.
4. While the meat is roasting, place the yucca in a large pot of boiling water. Cook until fork tender, and drain. Serve with pork roast.
————————————————————————————————————————
This recipe I thought would be interesting because of the combination of ingredients used on the potatoes. Instead of cheddar and bacon or sour cream and chives, this recipe uses lemon, red pepper flakes, parsley and parmesan cheese to flavor these baby Yukon golds.
Parmesan-Roasted Potatoes
Ingredients:
3 pounds baby Yukon Gold potatoes, halved
1/2 cup olive oil
Kosher salt, freshly ground pepper
4 ounces finely grated Parmesan
3/4 cup chopped fresh flat-leaf parsley
1 teaspoon finely grated lemon zest
1 tablespoon fresh lemon juice
1 teaspoon crushed red pepper flakes
Directions:
1. Place a rack in upper third of oven; preheat to 400°F. Toss potatoes and oil in a large bowl; season with salt and pepper. Place potatoes, cut side up, on a wire rack set inside a rimmed baking sheet; reserve bowl. Roast until golden brown and cooked through, 30–35 minutes. Transfer to bowl; toss with Parmesan. Return potatoes to rack and roast until Parmesan is brown and crisp, 10–12 minutes.
2. Toss potatoes in same bowl with parsley, lemon juice, and red pepper flakes. Top with lemon zest just before serving.
Recipes contributed by Charles DeJesus, formerly a culinary specialist in the United States Navy.  Charles is currently a student at Southwestern College.