Quite frankly, I'm not a big fan of oysters, but I love mussels. I found a recipe a little on the spicy side which is complemented with chorizo. Lightly toast some bread for a nice home-cooked meal that would even be suitable served at a restaurant.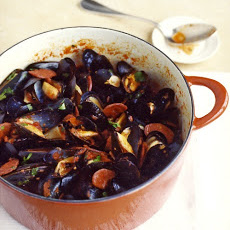 Spicy Mussels with Chorizo and Wine
Ingredients:
1 medium onion, chopped
3 tablespoons butter
3 cloves garlic, minced
8 ounces fresh chorizo, removed from casing1 tablespoon harissa
1 teaspoon red pepper flakes
3/4 cup white wine1 1/2 cups chicken stock
2 to 3 pounds fresh mussels, scrubbed and debearded
1/2 cup heavy cream
French bread, for dipping
Directions:
Cook's Note: If harissa cannot be found, substitute 1 tablespoon of tomato paste plus 1/4 teaspoon cayenne pepper.
1. In a large saucepan or Dutch oven, cook the onions in the butter over medium heat until soft, about 5 minutes. Add the garlic and chorizo to the onions and cook until the sausage loses its raw color, about 5 minutes.
Add the harissa and red pepper flakes, and then turn up the heat to high.
2. Once fragrant, deglaze the pan with the wine, allowing to bubble for a minute. Lower the heat to medium, add the chicken stock and bring to a simmer. Add the prepped mussels and cover to steam until the mussels open, 3 to 4 minutes. Add the cream and stir. Serve immediately with plenty of sliced French bread for dipping.
—————————————————————————————————
The first time I actually had this was during my time in the service. It was a hit on the ship because it tamed even the pickiest eaters. I really like how the sweetness compliments the carrots flavor.
Glazed Carrots
Ingredients:
1/2 cup chicken broth (or vegetable broth)
1/2 cup water
1 tablespoon unsalted butter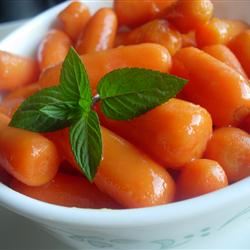 1 tablespoon packed light brown sugar
1/2 teaspoon ground cumin
1/2 teaspoon salt, plus more for seasoning
3/4 pound carrots, cut on the bias into coins
1 teaspoon freshly squeezed lemon juice
2 teaspoons minced fresh parsley leavesFreshly ground black pepper
Directions:1. In a small skillet, combine the broth, water, butter, brown sugar, cumin, and 1/2 teaspoon salt and bring to a boil over medium heat. Stir until the sugar is dissolved. Add the carrots, reduce the heat and simmer, covered, until just tender, about 4 to 5 minutes.
2. Uncover the pan and let the liquid cook down until it reduces to a glaze, about 2 to 3 minutes. Toss the carrots to generously coat them with the glaze. Stir in the lemon juice and parsley and season with salt and pepper to taste. Transfer to a serving bowl and serve.