I love San Diego's style of fish tacos. This recipe mimics restaurant style tacos so you can try making them at home. I recommend using your favorite beer for the batter and pico de gallo for the garnish. Using fresh tortillas also help give the tacos a real authentic flavor.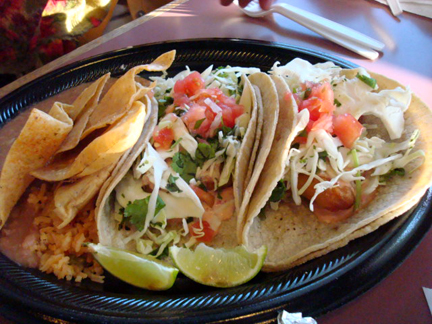 Fish Tacos
Ingredients:
1 cup all-purpose flour
2 tablespoons cornstarch
1 teaspoon baking powder
1/2 teaspoon salt
1 egg
1 cup beer
1/2 cup plain yogurt
1/2 cup mayonnaise
1 lime, juiced
1 jalapeno pepper, minced
1 teaspoon minced capers
1/2 teaspoon dried oregano
1/2 teaspoon ground cumin
1/2 teaspoon dried dill weed
1 teaspoon ground cayenne pepper
1 quart oil for frying
1 pound cod fillets, cut into 2 to 3 ounce portions
1 (12 ounce) package corn tortillas
1/2 medium head cabbage, finely shredded
Directions:
1. To make beer batter: In a large bowl, combine flour, cornstarch, baking powder, and salt. Blend egg and beer, then quickly stir into the flour mixture (don't worry about a few lumps).
2. To make white sauce: In a medium bowl, mix together yogurt and mayonnaise. Gradually stir in fresh lime juice until consistency is slightly runny. Season with jalapeno, capers, oregano, cumin, dill, and cayenne.
3. Heat oil in deep-fryer to 375 degrees F (190 degrees C).
4. Dust fish pieces lightly with flour. Dip into beer batter, and fry until crisp and golden brown. Drain on paper towels. Lightly fry tortillas; not too crisp. To serve, place fried fish in a tortilla, and top with shredded cabbage, and white sauce.
Recipe inspired by source.
Note: I'm always trying to find healthier ways to snack in between meals. I love potato chips, but its easy for me to eat more than I should.. Baking kale is new to me, and I think I'm going to try it before the next time I have potato chips.
Baked Kale Chips
Ingredients:
1 bunch kale
1 tablespoon olive oil
1 teaspoon seasoned salt
Directions:
1. Preheat an oven to 350 degrees F (175 degrees C). Line a non insulated cookie sheet with parchment paper.
2. With a knife or kitchen shears carefully remove the leaves from the thick stems and tear into bite size pieces. Wash and thoroughly dry kale with a salad spinner. Drizzle kale with olive oil and sprinkle with seasoning salt.
3. Bake until the edges brown but are not burnt, 10 to 15 minutes.
Recipe inspired by source.
Note: Wing Wednesday is a tradition I like to keep. This wing Wednesday I'm going to make Japanese wings. They're pan-fried in butter and baked in a sweet soy sauce glaze. I don't know if this is an actual Japanese recipe, but I cant wait to try them!
Japanese Chicken Wings
Ingredients:
3 pounds chicken wings
1 egg, lightly beaten
1 cup all-purpose flour for coating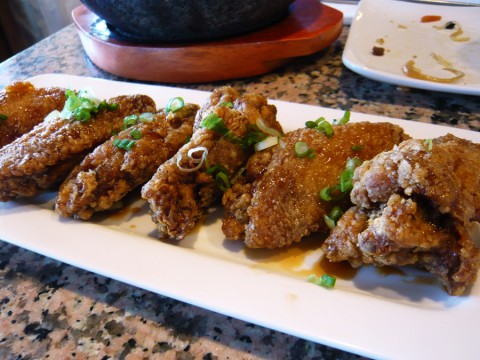 1 cup butter
SAUCE:
3 tablespoons soy sauce
3 tablespoons water
1 cup white sugar
1/2 cup white vinegar
1/2 teaspoon garlic powder, or to taste
1 teaspoon salt
Directions:
1. Preheat oven to 350 degrees F (175 degrees C).
2. Cut wings in half, dip in egg and coat with flour.
3. Heat butter in a large, deep skillet over medium-high heat. Fry wings until deep brown. Place in a shallow roasting pan.
4. In a small bowl combine soy sauce, water, sugar, vinegar, garlic powder and salt. Pour over wings.
5. Bake in preheated oven for 30 to 45 minutes, basting wings with sauce often.
Recipe inspired by source. 
Recipes contributed by Charles DeJesus, formerly a culinary specialist in the United States Navy.  Charles is currently a student at Southwestern College.