Note: Summer will be here soon, and now is around the time people start shaping up for beach weather. One important thing forgotten is the importance of your diet. Raw fruits and vegetables are one of the best foods to eat. If your not used to eating raw veggies, salads can help you start a healthier diet. Here is a simple salad to show that eating healthy can be easy and delicious.
Tomato Cucumber Feta Salad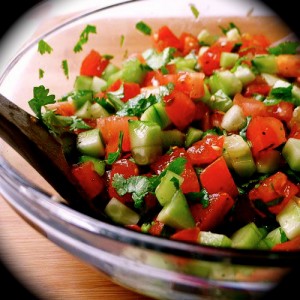 Ingredients:
2-3 cups of cherry and/or pear tomatoes, sliced in half
1 cup of chopped cucumber, peeled (and seeded if the seeds are bitter)
1/4 cup crumbled feta cheese
1 Tbsp coarsely  chopped fresh mint leaves (I've some recipes call for chiffonaded mint leaves)
1 teaspoon fresh, chopped oregano
1 Tbsp lemon juice
2 Tbsp of finely chopped shallots or green onions
2 teaspoons olive oil
Coarse salt and freshly ground black pepper to tasteDirections:
1. Lightly toss the tomatoes, cucumber, feta, onions, mint, and oregano together. Dress with lemon juice, olive oil, salt and pepper to taste.
Note:  Everyone who knows me well knows I have a soft spot for Mediterranean food. I haven't seen this in restaurants but It looks and taste fantastic! Impress your guest with this beet hummus recipe, and don't forget the pita bread!
Beet Hummus Dip Recipe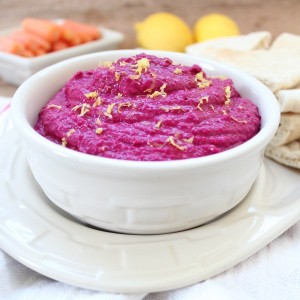 Ingredients:
1/2 pound beets (about 4 medium sized beets), scrubbed clean, cooked, peeled, and cubed*
2 Tbsp tahini sesame seed paste (this is optional but, I like the flavor that it gives)
5 Tbsp lemon juice
1 small clove garlic, chopped ( I found that using less makes it a smoother taste)
1 Tbsp ground cumin
1 Tbsp lemon zest (zest from approx. 2 lemons)
Pinch of sea salt or Kosher salt
Fresh ground pepper to taste
Directions:
*To cook the beets, cut off any tops, scrub the roots clean, put them in a covered dish with about 1/4-inch of water in a 375°F oven, and cook until easily penetrated with a knife or fork. Alternatively, cover with water in a saucepan and simmer until tender, about 1/2 hour. Peel once they have cooled.1. Place all ingredients in a food processor (or blender) and pulse until smooth. Taste and adjust seasonings and ingredients as desired.2. Chill and store in the refrigerator for up to 3 days or freeze for longer storage.Eat with pita chips, or with sliced cucumber or celery, or on a crostini with goat cheese and shaved mint.
Recipes submitted by Charles DeJesus, formerly a culinary specialist in the United States Navy.  Charles is currently a student at Southwestern College.