(San Diego, CA)
June 28, 2014—The 10th Annual Gospel Festival has only just begun and gospel artist Brent Jones already has the audience members on their feet, clapping, singing, and dancing with him.
The concert began at 7pm on Saturday at the San Diego Fab Fair, featuring gospel artists Fred Hammond and Brent Jones as well as their fellow musicians and singers on the Heineken Grandstand Stage. The audience members took nearly an entire five stories of the theatre, and their size continued to increase throughout the magnificent performance!
As the first of the two performers, Brent Jones engaged the audience in his music by teaching them the chorus to his songs and by encouraging them to sing with him and his enthusiastic singers as they celebrated the greatness of gospel as well as the innovative and universal form that he has aspired to give it.
As I arrived at the theatre, I saw that Jones was passing out samples of his latest album to those closest to the front of the stage and was very pleased to hear him asking them to "Be nice, be nice" and to pass the CDs to those that were behind them.
The audience sang and clapped on with the next song, and there were loud choruses of "Feels like Heaven's in the room!" throughout each level of the building as they joined Jones and his singers. This is when I noticed even more attendees coming to the performance and was also when the concert became more alive! Jones and his crew made to sound as though they were about to begin R. Kelly's "Love Slide", only to prove more creative when he introduced his own twist on the famous dance: "The Joy Slide".
While a brief BINGO break cooled us down for a good twenty minutes, there was nothing to keep us sitting when gospel artist Fred Hammond stepped out on the stage next. The music began euphoniously, adding celebratory notes to Hammond as he sang and as everyone rejoiced in his successful return from his double knee surgery earlier this year.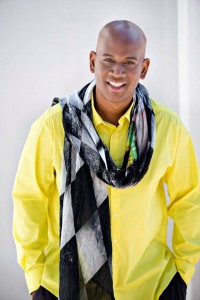 Reviewed by:  Jordan Brooks