(New York, NY–October 31, 2013) – Grammy nominated singer and Verve recording artist Ledisi is excited to announce the release of her fifth major studio release The Truth.  The album, which will be in-stores February 11th, is filled not only with Ledisi's trademark soaring ballads but also a generous collection of up-tempo, beat-driven celebrations of love and lust. The album is currently available for pre-order at Amazon.com.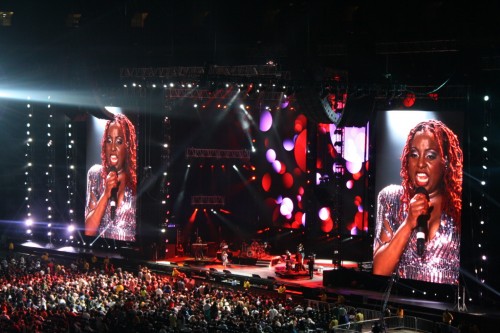 "With every album I grow, and with The Truth I've gone to a new level.  It's an extension of who I am and where I am in my life. Everything I am feeling and experiencing is in this album and I am excited to share it with my fans," states Ledisi. "Of all of my recordings, this is definitely my favorite album ever."
The first single off the new album "I Blame You," written and produced by Claude Kelly, Chuck Harmony and Ledisi Young (the team who brought you "Pieces of Me"), is a joyful reflection on that new-found love.  USA Today calls it "A breezy-smooth rush of pop-soul nostalgia."
In a few short weeks since its release, the single has quickly climbed up the charts to the top 20 on the Urban AC charts.
In addition to the anticipation of her new album, Ledisi is featured among artists Patti LaBelle, Jennifer Hudson, Kelly Rowland, Janelle Monae, and Alice Smith who will be rocking the stage at the 2013 BLACK GIRLS ROCK! honoring Patti Labelle, Queen Latifah, Mara Brock Akil, Venus Williams, Ameena Matthews, Misty Copeland, and Marian Wright Edelman. Ledisi will be performing "I Blame You" for the first time for fans on Sunday, November 3rd at 7p.m on BET.