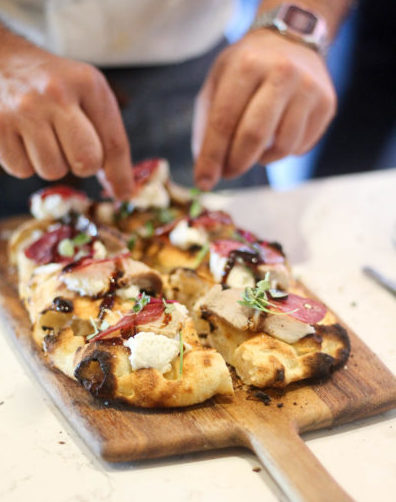 "The Maestro of Maestoso" By Frank Mangio
Marco Maestoso is a man on a mission.  He and his lovely co-owner of Maestoso, Dalila Ercolano, operate a delightfully refreshing new Italian restaurant in the Hillcrest district of San Diego called Maestoso.
Before dining at Maestoso, you must rid yourself of any old ideas about checkered tablecloths, straw wine bottles and mounds of old Mozzarella cheese.  This is not your paisan's restaurant.  Maestoso's food is excitingly different, so much so you'll want to try everything on the menu.  Take the pizza.  It's not called pizza, it's called La Pinza, a trendy but traditional Roman alternative that is oval shaped and will easily feed two,as an appetizer or main course.  
You will have your choice of seven different creations.  I fell in love with two:  the La Mortazza, packed with mortadella sliced meat, burrata, pistachio crumble and cheery  The other was the Melanzana di Casa, with eggplant tomato sauce, buffalo cheese and parmesan. "La Pinza is an oval shaped pizza style dish with 17 different grains plus Molina flour," Ercolani explained. "All ingredients are imported from Italy. The dough is aged 100 hours to eliminate that bloated feeling found in most pizzas.  Marco is brilliant at mixing custom toppings, using his intelligence in artistically discovering combinations found from his time as a Michelin trained international chef.  Each Pinza is $17.00."
A lively and popular feature at Maestoso is  "Passaggi," (passage in Italian), an exclusive concept where one of the several chefs at the restaurant push a cart full of their special dishes they have made that evening, and present it to each table as a special off the menu treat. Each dish is attractively priced for diners to pick and choose. Each night is always a different set of dish items.
Looking for a fine dining choice?  Maestoso has it on the menu with Branzino, an Italian sea bass, Risottto Milanese and Agnello Scottadito, a Mediterranean lamb rack with a delicious mushroom spread on the side.  
Wines come in all Italian flavors and varietals.  From Nero D'Avola in Sicily to Batasiolo Barbara in Piemonte, Maestoso has you covered with silky tannic whites to richly bodied reds.
We have to mention a special dessert, a Pancetta, made by Chef Marco and presented as an Italian Meringue, hand torched  with lemon glaze and Guanciale ( pork cheek).  It looked like a sunny side up egg with bacon crumbles, but no, an amazing pancetta!
Above the door leading to the kitchen is a sign for every Maestoso worker to see and think about, "Make a difference in someone's life today." 
Maestoso is making a big difference in Italian cooking in San Diego.  Visit at maestoso.com. 
---
Frank Mangio is a renowned wine connoisseur certified  by Wine Spectator. View his columns at tasteofwineandfood.com  –Re-post with permission.