Rev. Jesse Jackson, Sr. to Lead Discussions on Diversifying the Tech Industry with Notable Executives from Silicon Valley and Beyond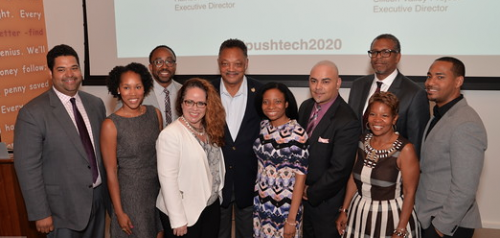 LOS ANGELES, CA – June 25, 2015 – Rainbow PUSH Coalition, in partnership with Google, presents the "Dream Makers, Risk Takers and Money Makers: Diversity and Inclusion in Tech Forum" in Los Angeles. The third event in a national outreach effort to support Rainbow PUSH Tech 2020, an initiative which identifies ways to achieve diversity in STEM industries. Rev. Jesse Jackson will lead a discussion on diversifying the technology field with notable executives of color on Tuesday, June 30, 2015.
Technology executives participating in "Dream Makers, Risk Takers and Money Makers: Diversity and Inclusion in Tech Forum," include:
Malik Ducard – Global Head of Family & Learning, YouTube
Navarrow Wright – Founder, The Close The Divide Project
Jamaal Finkley – President, Black Tree TV
Pierre Johnson – Executive Director, Peggy Beatrice Foundation
Sheila Marmon – Founder & CEO, Mirror Digital
Kelly Redmond – Executive Director, Impact Media & Entertainment Coalition
In addition, multi-award winning gospel singer/songwriter and television personality, Erica Campbell will be interviewed to discuss launching and growing her YouTube channel and content creation.
"Rainbow PUSH continues to open doors in corporate America to seize this moment of opportunity and access. Diversity + Inclusion = Innovation. Let's connect talent with access to capital and opportunity," said Rev. Jesse Jackson, Sr., founder and president, Rainbow PUSH Coalition.
Added Nancy Lee, Vice President of People Operations at Google, "We continue to work on advancing diversity at Google and throughout the tech ecosystem as a whole. Making computer science education accessible and available to everyone is one of our most important initiatives, as is helping all communities share the benefits of the web and to have access to the informational and economic engine it provides. Our June 30th event is about creating opportunities for all communities to realize the impact of technology and the web."
Last year, Rainbow PUSH successfully engaged over two dozen technology companies to release their EEO-1 report and workforce diversity and inclusion data. In a few short months, a new climate of transparency and change emerged and more than 20 companies publicly posted their workforce diversity data. The data showed the glaring under representation of African Americans and Latinos in every company.
As one of the preeminent leaders in Silicon Valley, Google is one of the first technology companies to make a commitment to inspire and educate organizations, business leaders and up-and-coming tech professionals on how to engage and access technology. Google's collaboration with Rainbow PUSH is one of the many initiatives created to further the conversation and provide insight into key diversity and inclusion strategies in the technology space.
The Los Angeles forum is intended to continue a candid dialogue on the changes, strategies and programs that technology companies can implement to increase and support diversity and inclusion in the industry.
The "Dream Makers, Risk Takers and Money Makers: Diversity and Inclusion in Tech Forum" will take place on Tuesday, June 30.
For more information about the Rainbow PUSH Coalition, please visit www.rainbowpush.org. Follow Rainbow PUSH Coalition on social media @RPCoalition and #PushTech2020.