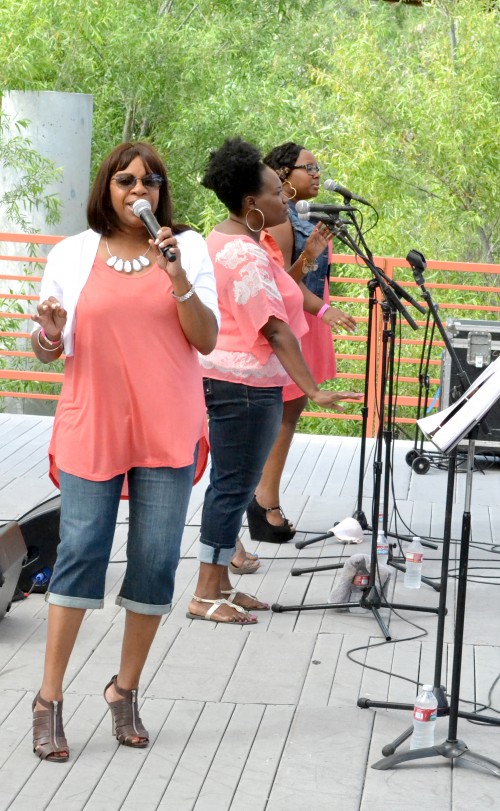 Bringing originality back and adding a new twist. That's what Jazz at the Creek  located at Market Creek Amphitheatre in Southeast San Diego, is all about. If you're anything like me, you appreciate the sultry sounds of Bessie Smith, Ella Fitzgerald, Billie Holiday, Louis Armstrong, George Benson and Ray Charles.
A few Sundays ago, I had the opportunity to meet several up and coming artist's that are  added to the lovely genre we call Jazz. Upon my arrival, I immediately felt the smooth tempo in the midst of the fresh air. After a couple hellos and lots of hugs, I proceeded to meet with the artist's. My first interview was with Ms. Lanee Battle, who is a local San Diego artist/singer. I asked Lanee who or what was her main influence as a woman? "God!" she replied. I was expecting a name but she gave the ultimate response. Newlywed Battle, performs all genres of music and, will be performing at the San Diego County Fair in Del Mar, later in June. It would be an understatement to say that she's busy. Her first CD is titled, "My Story." Ms. Battle looks forward to sharing her music and reminds us to always keep God first.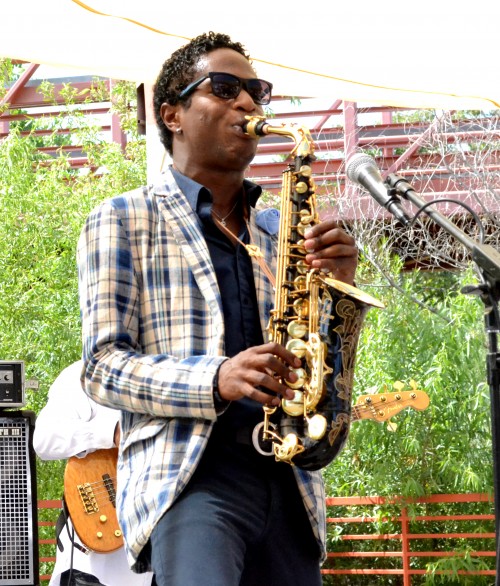 My next talk consisted of meeting a young man (only 20) who is taking Jazz to the next level. Introducing Jacob Scesny, one of the main headliners for June. Jacobs's spirit reminded me of the true passion for the love of music. His glow was contagious, as I asked for his influence, he kept thanking me for my time. His motivation is LIFE itself. Jacob, wants to remind our generation that Jazz is apart of history and, it must be honored and remembered.
It brings me joy to know that young people are being conscientious and positive.
Last but not least, I interviewed a brother I met a few weeks ago at another community event, 31-year old Rocky Powell, a Saxophonist originally from Michigan.  Rocky relocated to San Diego, when he was 15.
Another fellow Generation X'er Rocky, also shared his love for pioneers of "Real" music (Jazz) and, that his influences came from music that touches our soul. He calls his style, Urban Jazz. Urban Jazz bridges the gap in generations—it is a mixture of R&B, smooth and progressive jazz.
As I headed down to my seat to enjoy the show, I met Kelly Cole and Amehd Dense both radio personalities and Jazz lovers. You can listen to Ms. Cole at KPRI, 102.1, every Sunday night. Each show is also posted online. Ms. Cole believes in promoting new artists and new music. Amehd is the host for Jazz at the Creek and Lights Out with 98.1. Both were a joy to meet and learn from.
Amehd reminds us that a portion of each ticket purchased will go towards the San Diego Food Bank Kids. An organization here in San Diego, that benefits children in the community who are in need of food.
What better way to make a donation to a worthwhile cause while enjoying an afternoon of soulistic vibes.
Jazz at Market Creek plaza, sets a new perspective and positive energy to our community. Market Creek is the perfect location, to enjoy a weekend afternoon, listening to Jazz, enjoying a few bites while supporting the arts. For more information, visit www.jazzatthecreeksd.com.
Contributing writer, Jaqueline Penhos is a regular contributor to Front Free Newspaper.