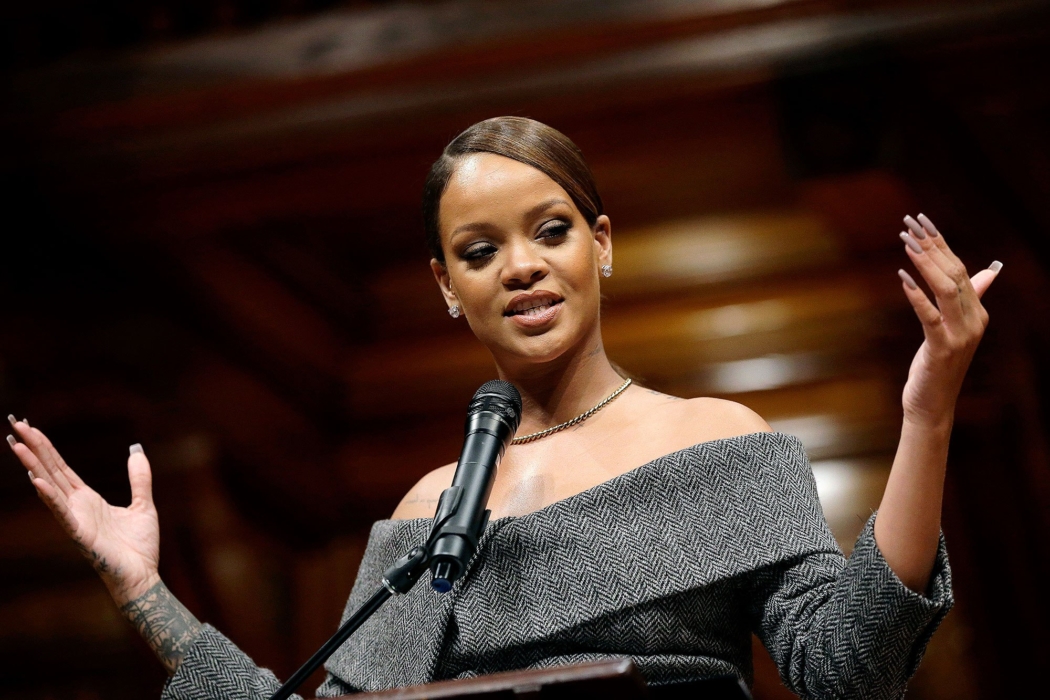 Photo: Steven Senne/AP
Grammy Award-winning singer Rihanna, is not just being award for her work in the music industry. The  singer  original from Barbados was honored earlier today, at the prestigious Harvard University as the 2017 Humanitarian of the Year.
Dr. S. Allen Counter, director of the Harvard Foundation, introduced Rihanna, saying, "Rihanna has charitably built a state-of-the-art center for oncology and nuclear medicine to diagnose and treat breast cancer at the Queen Elizabeth Hospital in Bridgetown, Barbados… It is for these philanthropic initiatives, and other acts of compassionate sharing, that the students and faculty of the Harvard Foundation chose to honor Rihanna with the 2017 Humanitarian of the Year Award."
She received a standing ovation as she accepted the award on Tuesday.
"So I made it to Harvard!" the singer said as she took to the stage, where she spoke about the childhood that inspired her charitable work as an adult.
"I'm incredibly humbled to be acknowledged at this magnitude for something, in truth, I never wanted credit for," Rihanna told the crowd. "I remember watching TV (as a child) and I would see commercials with children suffering in other parts of the world, the ones where you could give 25 cents and save a child's life. I said, 'When I grow up and get rich I'm gonna help kids all over the world.' I just didn't know I would be in the position to do that by the time I was a teenager."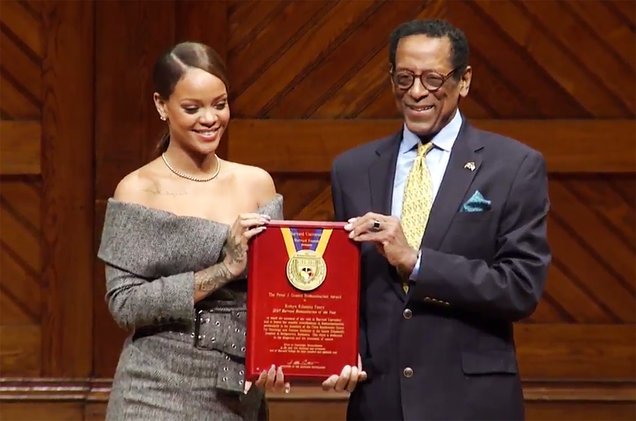 The university says it chose Rihanna for her involvement in a number of charitable causes. She built a state-of-the-art center for Oncology and nuclear medicine to diagnose and treat breast cancer in her home nation, Barbados.
Rihanna, whose songs include "Work" and "Umbrella," also supports the Global Partnership for Education and Global Citizen Project, providing children with access to education in more than 60 developing countries. She created the Clara Lionel Foundation scholarship program, named for her grandparents, for students from the Caribbean who attend college in the U.S.
Previous winners of the award include actor James Earl Jones and activist Malala Yousafzai.