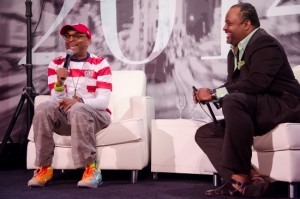 Los Angeles, CA. – NOV. 19, 2015 – Roland S. Martin, host and managing editor of TV ONE'S News One Now, the only daily news show program targeting Black viewers, will be speaking with Academy Honorary Award winner Spike Lee tomorrow, Friday, Nov.20. During the show's live broadcast (7-8 a.m. ET), the filmmaker will join News One Now in-studio to discuss his upcoming film Chi-Raq, as well as the need to diversify Hollywood.
"Spike Lee is an iconic movie director and I'm also proud to call him a friend," said Martin. "Not only am I excited to discuss his new movie, Chi-Raq, but also his blistering speech at The Governor Awards that called out so-called liberal Hollywood on its porous record of diversity. This will be his second time on News One Now and it will certainly be a memorable one."
Most recently, Spike Lee used his acceptance speech as a platform to promote diversity with the Academy of Motion Pictures Arts and Sciences. While accepting the award and offering his gratitude and thanks, Lee also stated, "Not sure if you now this, but the U.S. Census Bureau says by the year 2043, white Americans are going to be the minority in this country. So, people in positions of hiring, you better get smart. Your workforce should reflect what this country looks like."
The first feature film to be fully financed by Amazon Studios, Chi-Raq is a modern day adaptation of the ancient Greek play Lysistrata by Aristophanes, set against the backdrop of gang violence in Chicago.
To view the
Chi-Raq
movie trailer, please click
here
.