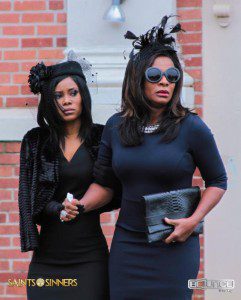 In Bounce TV's first-ever original drama series Saints & Sinners, acclaimed actress Vanessa Bell Calloway calls the scripted drama devilishly delicious!
The storyline in Saints & Sinners, centers around the pursuit of power, intertwined with deceit, greed, corruption and murder – all set against the backdrop of a large southern church, Greater Hope Baptist Church is the heartbeat of Cypress, GA, a large southern town outside Atlanta. With the return of a prodigal son and a shocking crime that rattles the core of the community, long-kept secrets, deceit, jealousy and compromising sexual affairs threaten to demolish the heart of the church and shatter the lives of those within it.
In a media teleconference on February 25, leading cast members Bell Calloway, who plays first Lady Ella and veteran actor Clifton Powell who plays Rex, shared that Saints & Sinners is a dynamic, entertaining show that deals with humanity, and in exposing both sides.
When Powell was asked to describe his character Rex, in three words, his answer was this: Sensitive, Sociopath and Manipulative. Now, here's how Bell-Calloway described Lady Ella–Ambitious, Manipulative and Loving.
What do you think? Both characters sound saintly sinful to us. Only God and the devil can tell the difference between a saint and a sinner.
Chances are with this combination of remarkably talented actors, Saints & Sinners will undoubtedly have the show trending #mustseesundaytv.
Check out the impressive cast of Saints & Sinners:
Vanessa Bell Calloway (Shameless, Coming to America) as Lady Ella, a beauty queen with a business mind and the power behind the throne as Pastor Evan Johnson's wife.
Clifton Powell (Ray, Murder in the First) plays Rex Fisher, a ruthless local loan shark with his hand in many of the dealings in town.
Gloria Reuben (Mr. Robot, ER) as the Mayor of Cypress Pamela Clayborne, a hard-nosed former prosecutor whose secrets are catching up to her.
Keith Robinson (Dreamgirls, Are We There Yet?) portrays Miles Calloway, a former R&B star, one hit wonder, now serving as the minister of music at Greater Hope.
Christian Keyes (Mistresses, Let's Stay Together) as Levi, the prodigal son who returns to his hometown after a successful run on Wall Street.
Richard Lawson (Numb3rs, Wag the Dog) plays the beloved Pastor Evan Johnson who is harboring many dark doings from his faithful believers.
Jasmine Burke (The Vampire Diaries, Army Wives) as Dr. Christie Johnson, the daughter and only living child of Pastor and Mrs. Johnson, who tends to local patients but has her own private issues.
JD Williams (The Wire, The Good Wife) portrays Jabari, Levi's cousin who also works for Rex and is torn between family and business.
Afemo Omilami (Hunger Games: Catching Fire, Forrest Gump) as Detective St. Charles.
---
The eight-episode first season of Saints & Sinners will be seen Sunday nights at 9:00 p.m. (ET) starting March 6, on Bounce T.V.
Bounce TV — the nation's first and only broadcast television network designed for African-American (AA) audiences and TV's fastest-growing AA network — is expanding into hour-long drama with Saints & Sinners, which will center around the pursuit of power, intertwined with deceit, greed, corruption and murder – all set against the backdrop of a large southern church.
Saints & Sinners is being produced in partnership with Swirl Film's Eric Tomosunas (Undershepard, 35 and Ticking).
Bounce TV is the only emerging broadcast network, also known as a "multicast" network, producing original scripted series. The network's three originally-produced sitcoms Mann & Wife (First Season), In The Cut (First Season) and Family Time (Third Season) all set network records for viewership in 2015.