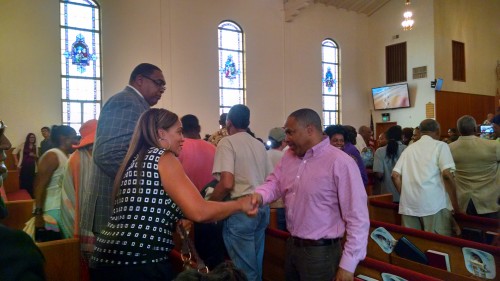 San Diego, CA — On Thursday night, National Action Network, clergy, politicians and members of the community assembled at the oldest Black church in San Diego, Bethel AME, for prayer and worship in solidarity concerning the tragic, racially motivated shooting at Emanuel A.M.E., a historic black church in downtown Charleston, South Carolina.
Rev. Shane Harris, San Diego Chapter President of NAN, and a host of other prominent pastors, led the community in prayer and words of encouragement.  
Here are a few of the powerful quotes heard throughout the prayer vigil:
"We can't stand in Silence."
"It's 2015, yet we're still challenged by racial inequalities."
" Today, we stand side by side by side with Charleston. We stand side by side with the AME Church."
"The world is crying out for God's guidance. What is He trying to show us?"
The prayer vigil was held at 6:30 PM at Bethel AME Church, under the leadership of Rev. Leslie R. White.
For more information on National Action Network San Diego visit: www.nansd.net.