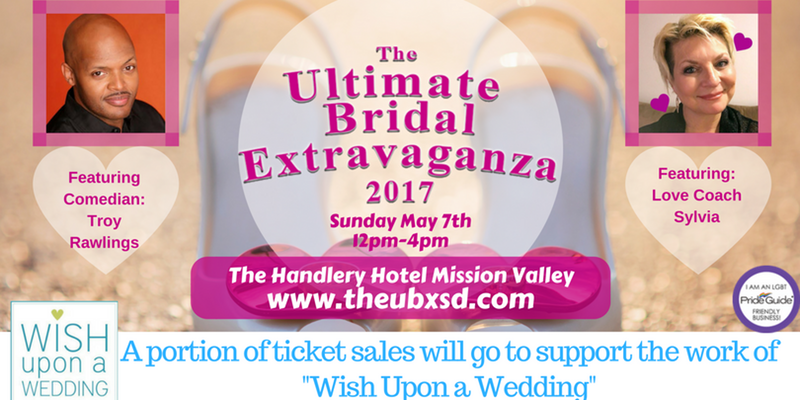 (San Diego, CA) On Sunday, May 7, 2017, Sparkling Productions will launch "The 2nd Annual Ultimate Bridal Extravaganza" with Love coach "Sylvia" who's known to arouse the crowd with her insightful tips that get couples prepared for their relationship before and after their "Big Day,"and Relationship Comedy Guru, "Troy Rawlings" who has one of the top "one man" comedy shows in high demand is returning for the second year.  Last year, Rawlings had the audience laughing at his comedic stories of the craziest situations that can happen in building a solid relationship.
This year, the "Dress Shop" has been added.  Attendees will be able to right on the spot, try on some of the most trending and exquisite wedding dresses in the market.
Produced by Jamie Gonzales, "The Ultimate Bridal Extravaganza will be raising money to support the work of "Wish Upon A Wedding."  Jamie decided to add a fundraiser to help give back to the community. She chose "Wish Upon a Wedding" as her charity of choice because, the organization grants wedding "wishes" to couples in need.  Having had a friend pass on from a terminal illnesses and one friend lose her husband as a newlywed, this charity stuck her on a personal level and wanted to give back to the community in their memory.
"The Ultimate Bridal Extravaganza" will take place at The Handlery Hotel Mission Valley, 950 Hotel Circle North, from 12:00pm-3:00pm.
*General Admission tickets are only $10.  Admission includes access to all entertainment and exhibitors.  First 100 Brides to Be will receive a Bridal Swag Bag from Sparkling Productions.  VIP tickets are available for $30 includes Early Check-In, Groom is Free, Bridal Swag Bag with exclusive gifts from sponsors, ballroom lessons, drink ticket and parking.
For More information call 619-733-8227  or visit www.theubxsd.com.