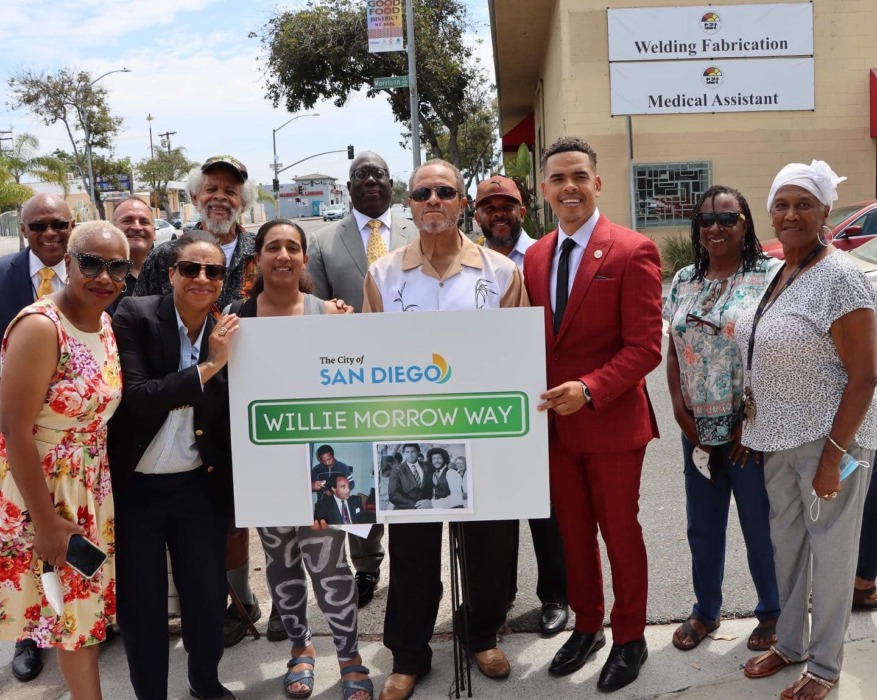 Shane Harris, CEO and Founder of People's Association of Justice Advocates – PAJ and members of the San Diego community gathered in effort in getting a street named after hair and beautycare icon, Willie Morrow. In a press conference, Harris stated,
"Willie Morrow gave his all to our region and put San Diego county on the national and international map through his nationally recognized inventions of the "Afro Pick" and the "California Curl" which later became the "Jheri Curl". He could be the first African American business owner recognized with a street in the city of San Diego because most of the others are recognized politicians, professors and public sector leaders. I promised the Morrow family and our region two weeks ago at his funeral that we would launch the effort of getting a city street naming in his honor and today we launched the campaign to get the street naming done. I want to thank Cheryl Morrow (Daughter of Willie Morrow), Professor Chuck Ambers, Pastor Steve Cooper, Curtis Moring Jr. , Abdur Rahim Hameed, Yvette Porter Moore, Mother Kathleen Harmon, Juan Ramirez and several others who are backing my office."
"Today we launch the effort of getting a street in San Diego named after the great Willie Morrow. Willie Morrow was not only the inventor of the Afro Pick and internationally respected but he paved a new generation of African American entrepreneurship and gave benevolently to our region in multiple ways. A street naming only scratches the surface for someone who poured so deeply into our soils. Willie Morrow made the world see that natural hair is the truest form of freedom and loving yourself".
The campaign to start the street naming process was announced at the intersection of Market St and Morrison St. Morrison Street spans two blocks in front of the historic two-story building that Morrow established that grew to include a barbershop, salon, The San Diego Monitor Newspaper and San Diego's 92.5 FM radio station in the late 1970's.
"We are going to rename Morrison Street Willie Morrow Way and we're going to do it as quickly as possible," said Harris.
The process of renaming a street isn't easy and it's time consuming. The city has to approve and so do the neighbors who live on the street.
The People's Association of Justice Advocates and national civil rights leader Shane Harris, along with Cheryl Morrow, Willie Morrow's daughter, is leading a campaign to get a San Diego street named in honor of Willie Morrow.