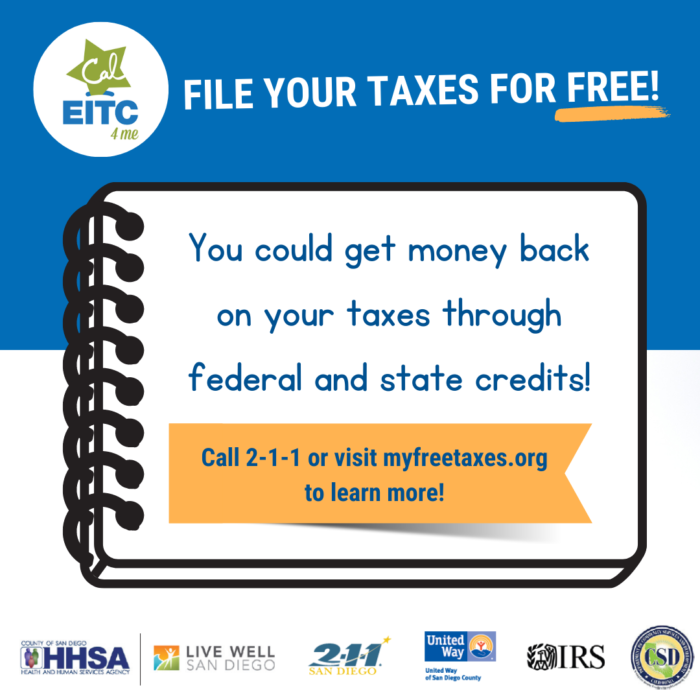 A new tax season is here and United Way of San Diego County (UWSD), 211 San Diego, and the Earned Income Tax Credit Coalition are providing valuable information on tax credits and free tax preparation services available to hardworking low- and moderate-income individuals and families in San Diego County.
"As we head into a third year of the pandemic, it's more crucial than ever to continue supporting our San Diegans in need of financial support," says Nancy L. Sasaki, President and CEO of United Way of San Diego County. "These individuals and families need a helping hand to make ends meet during these uncertain times. By providing free tax preparation services to help them receive the federal and state tax credits they earned and deserve, we hope to provide them relief and reassurance. Through the EITC Coalition, we're not only addressing family instability, but also strengthening our communities by ending the deep disparities that exist."
Individuals and families can call 2-1-1 to see if they qualify for the federal EITC and CTC, as well as the state CalEITC and YCTC. If you are eligible for free tax preparation, 211 can schedule an appointment for you. For more information about available tax credits, visit 211sandiego.org/taxes or call 2-1-1.
Volunteers are also needed to help people file their taxes for free. Dreams for Change can train you to become an IRS Certified Tax Preparer. For more information on how to get involved, visit dreamsforchange.org.