San Diego (March 28, 2013) — San Diego Mayor Bob Filner hosted UNCF's Inaugural Mayor's Luncheon for Education at the San Diego Marriot Gaslamp Quarter Hotel.  Preceded by a VIP Reception, attendees of the luncheon included prominent college-educated professionals and community leaders.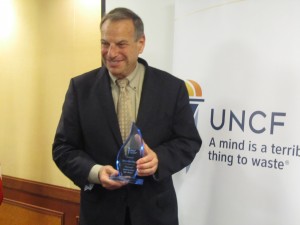 UNCF president and CEO, Michael L. Lomax, Ph.D. addressed the room of professionals by saying, "For the last 13 years, over 12.5 million dollars in scholarship funds have been awarded to students who have come to San Diego to receive a college education." He went on to say, "By the way, only thirty-one have been African American.  Other awards have gone to students who are: Hispanic, Native American and Pacific Islander."
Since its founding in 1944, UNCF has raised more than $3.6 billion in contributions and helped more than 400,000 students earn college degrees. UNCF administers more than 400 programs, including scholarship, internship and fellowship, mentoring, summer enrichment, and curriculum and faculty development programs. Today, UNCF supports more than 60,000 students at over 900 colleges and universities across the country.
Lomax discussed the iconic UNCF tagline "A mind is a terrible thing to waste."® ," and how the 41-year-old powerful marketing campaign has become one of the ten top slogans of the Ad council.  He also mentioned that the organization would soon introduce a new and slightly changed campaign slogan starting next month.
According to Dr. Lomax, San Diego was chosen as a destination to host the Mayors Luncheon for Education because, the vibrant city has become a national magnet for students to get an education and the UNCF wants work with the San Diego community to build a community of graduates of color, regardless of economic background.
Mayor Bob Filner, A Pittsburgh native who was raised in New York City, was one of the hundreds of college students (Freedom Riders) who traveled to the South in the summer of 1961 to push for abolition of legal separation of the races. He went on to teach at the Tuskegee Institute.  After graduating in 1970 from Cornell University with a doctorate in the history of science, Filner began teaching at San Diego State University.
The first UNCF Governor's Luncheon was held in 2003 in Florida – hosted by Governor Jeb Bush. Since then annual Governors' luncheons have been held in many states such as Texas, Tennessee, Louisiana, Arkansas, South Carolina, Virginia and Oklahoma.  AT&T, is the national sponsor of the Governor's and Mayor's luncheons.
.