San Diego NSBE Professionals Presents: The First STEM Gala
Harlem Renaissance Themed Event to Raise Money for San Diego Students in the fields of Science, Technology, Engineering, and Math (STEM)
FOR IMMEDIATE RELEASE: 
Contact: Chequala Fuller (360) 320-4149, [email protected]
SAN DIEGO (09/06/13) —The National Society of Black Engineers (NSBE) San Diego Professional Chapter will be hosting their first STEM (Science, Technology, Engineering and Math) Gala on Saturday, November 9, 2013 at the San Diego Air and Space Museum, located in historic Balboa Park.
Coming off the recent win at NSBE National Convention 2012-2013, where NSBE San Diego achieved 2012-2013 National Chapter of the Year, National Pre-College Initiative Program of the year and Regional Alumni Extension of the year, the organization is motivated to extend their support to hundreds of students throughout the San Diego area within the next year.  In July 2013, NSBE San Diego was the primary sponsor of the Science Engineering Experience for Kids (SEEK) Camp for over 700 students at Lincoln High School.  The camp was a free three-week program geared towards third through eighth grade students within San Diego where participants learned the fundamentals of engineering.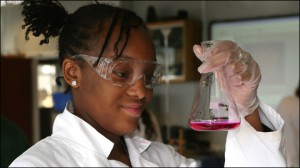 The STEM Gala is an extraordinary event that takes the NSBE Mission one step forward. By combining the need for engineering programs in the San Diego community schools while providing an opportunity for graduates of local San Diego colleges to meet with companies, such as SDG&E, Cubic, Life Technologies, Hansel Phelps and QUALCOMM who has agreed to sponsor this event.  The STEM Gala will work towards the continuation of a Science, Technology, Engineering and Math pipeline that will support students from elementary through their collegiate careers and beyond.
Guests and patrons of the gala will enjoy a reception with access not only to employees from various San Diego based companies but also to the entirety of the legendary San Diego Air and Space Museum.  Accompanying the reception will be a silent auction featuring unique items and experiences.  Guest will also enjoy an elegant dinner and program followed by a chance to mingle with some of NSBEs most accomplished alumni.
The San Diego community is invited to attend the STEM Gala; tickets for this event are available online at www.nsbe-ae-sd.org. Those interested in donating an auction item or sponsoring the STEM Gala may contact Shirley Deese at 858-618-4025 or [email protected].