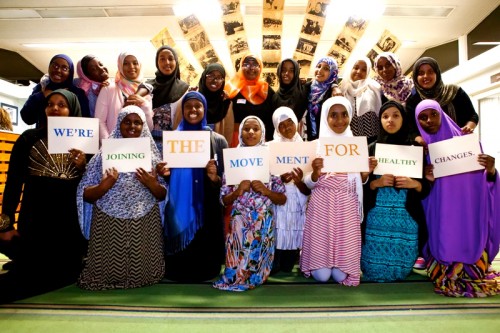 Sometimes images are as powerful as words when telling stories about people and their communities.
That's the idea supporting the San Diego photography exhibit   "Overcoming Barriers to Health," a collaboration between UC San Diego Center for Community Health, the AjA Project, City Heights Hope Youth Advocacy Project and SDSU Geography Co-Chair, Urban Studies Program. The project is supported in part by funding from the California Department of Health's NEOP program through the County of San Diego Health and Human Services Agency.
Young women – first and second-generation East African refugees and immigrants between the ages 12 and 17 – identified health issues in their community, the City Heights neighborhood that has long been a home for East African immigrants to the U.S.
The powerful photography fuels a dialogue on multiple subjects, including language and cultural barriers. The photos tell the story of easy access to unhealthy foods at convenience and liquor stores, but how a lack of health equity, and food insecurity, limits access to healthier choices.
The photos also tell of environmental changes that are helping, such as the establishment of a busy farmers market in City Heights, where refugees visit every Saturday and find the foods that fit their cultural background – the food they grew up with – much of it grown at local farms and in private gardens in a city that has becoming increasingly friendly to residential gardening.
More needs to be done, though, and the photos reflect the need for change. Highlighted is an Intergenerational Cooking Class where mothers share traditional cultural recipes with their teen daughters. The hope is that by placing both the challenges and solutions in visual form through photography, the conversation will continue.
"In today's world, engaging the youth is very significant to enact positive change in our society." said Amina Sheik Mohamed, the Senior Manager from UC San Diego Center for Community Health. "Our youth engagement program offers tools, leadership training, and a trusted environment so that youth may share their voices and be the change makers in their communities."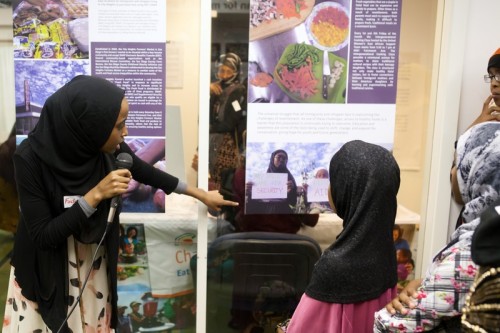 Testimonial from a youth participant
"Due to my financial endeavor, I relied consistently on unhealthy food.  This youth engagement program augmented my knowledge on all available healthy food resources. It also expanded my leadership capabilities, by engaging in collaborative discussions and coming up with the solution to my struggles".
Article contributed by Amina Sheik Mohamed, Senior Manager, UC San Diego Center for Community Health.
Click here for more on AjA project.