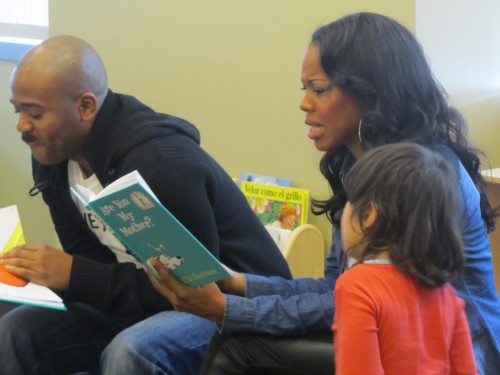 San Diego, CA—With over a quarter of the county's fourth graders not reading at a proficient level and, more than half of San Diego's students qualifying as "economically disadvantaged," United Way of San Diego County will host its second annual Virtual Book Drive for local children up to age eight, as an opportunity to develop a lifelong love of reading.
On March 22, to kick off the book drive which takes place through March 30, San Diego REPertory Theatre actors presented a lively out-loud reading to the homeless children of St. Vincent de Paul Village's Village Child Development Center.
The actors, including the stars of the REP's current production "The Mountaintop" Danielle Mone` Truitt who stars as the sassy maid, Camae, and who also, served as the model for Princess Tiana in the popular Disney film "The Princess and the Frog," and Larry Bates, who plays Martin Luther King, Jr. sat in front of approximately twenty bright eyed adorable little ones, who listened eagerly as the actors read, "Are You My Mother," one of five books purchased for the drive.
Jon Vance, campaign chair and incoming board chair, of United Way Sn Diego County, reported the goal of the Virtual Book Drive, sponsored by GEICO, is to distribute 48,000 bilingual books to low-income children up to age eight, and encouraged individuals and companies to make any size donation at the online bookstore at www.UWSD.org or by texting "BOOKS" to 41444.
Reading Tips For Parents
1. Keep books, magazines, and newspapers around your home so you and your children will always have something to read.  Read the things you see during the day out loud.  Read street signs, milk cartons, cereal boxes, and signs in store windows.
2. Read together every day.  Try to read to them at the same time every day.  Bedtime or before a nap is a good time.  Make this a warm and loving time when the two of you can cuddle close.
3. Read with fun in your voice.  Read to your child with humor and expression.  Use different voices.  Ham it up!
4. Read it and experience it.  Connect what your child reads with what happens in life.  If your'e reading a book about animals, relate it to your last trip to the zoo.
5. Read it again and again.  Go ahead and read your child's favorite book for the 100th Time!  As you read, pause and ask your child what is going on in the book.