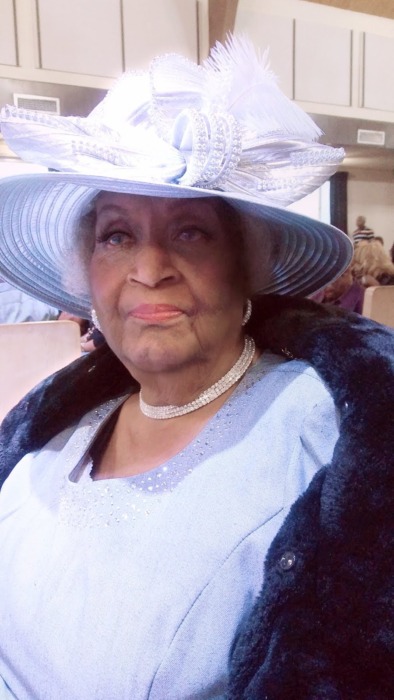 For those who have had the pleasure knowing Sister Ann Murray, knows that it's only during these uncertain times of a pandemic is, why a landmark birthday celebration isn't taking place. You'd best believe that friends, family and loved ones had a celebration in mind fit for a queen.
Rightfully so, she earned it. She turned 88 on October 13!
Most "church folk," especially those that attend Mt. Erie Baptist in San Diego, where Murray's been a faithful member since the 1950's, can attest that at every Sunday morning service, you'll find a silver haired Sister Murray, sitting in the pews, confidently wearing an elaborate hat, face beat, dressed to the nines, matching accessories, all the while rocking vibrant colors in that signature "church lady" style. A style she's donned for many years.
Back in the day, Black women never stepped into church without wearing their Sunday best, a tradition which dates back to slavery, when the only day off from work was Sunday. To this day, Murray, and many women over the years still take pride in keeping that tradition alive.
A pillar of the community, Sister Murray, as she's referred to by friends and her beloved church family, moved from Richmond, Arkansas with her family to San Diego, in the mid thirties at three years-old. She met her late husband Clennon, who served in the United States Navy, and together they raised eight children consisting of five girls and three boys.
While maintaining a household and raising a family, Murray went to school to further her studies, and held a myriad of jobs in education. She started her career as a Teacher's Assistant for 15 years at Kennedy Elementary School until she acquired her Teaching Credentials. She obtained an AA in Child Development at San Diego City College, a BA in Early Childhood Education and a BA in Liberal Arts and African American Studies at San Diego State University. Additionally, she studied at all of the above mentioned and University of Alabama for over a 10 year period.
While working at Kennedy Elementary and Mead Children's Center, she went on to become a Lead Teacher in San Diego City Schools for over thirty years. Her passion for education led Murray to find the time to volunteer in the San Diego City Schools District. She volunteered many hours at Lincoln High School during the tense 1969 "Student Walk-Out." She worked with the redevelopment of Lincoln High by walking the halls of the school to encourage students to attend classes. She counseled students who were discouraged, depressed or distraught. She showed special attention to those who seemed to exhibit social, psychological and/or emotional problems.
A formidable community/social activist, she continued her community work with the San Diego Urban League, Eastern Star, NAACP, Neighborhood House, Lincoln High Booster Club, Senior Citizens Christmas activities, and the Supplemental Food Exchange Program, under the Negro Women and Professional Association which Murray is a member.
Fun Black History Fact: Known throughout the San Diego community as a pioneer of Gospel Radio, Murray was one of first female African American Gospel radio announcers in San Diego, for 92.5 FM and KMJC AM Radio. She was also a member for many years of the Radio Announcers Guild, where she held the office of secretary.
Her love for Gospel music led Murray to work for years with the Gospel Music Workshop of America, founded by the late Grammy Award-winning musician Dr. Rev. James Cleveland. She is a member and current State President of the National Singing Quartets of America Inc.
"Mom has the gift of enthusiasm, drive, spirit and the overwhelming desire to help others that are in need. She has always had a "can do" attitude, and demonstrated a joy of achievement and mission accomplishment in everything that she has ever done. She has blazed a path and trail in the area of gospel music, education and community volunteerism locally and beyond. For years she has been committed to hard work and faithful service to what she feels to be of importance and of major concern," Said son Clennon "Wayne" Murray.
Over the years, Murray has been a blessing to the San Diego Community, California State and National level for so many years. In October 2017, the San Diego City Council issued two awards to Mrs. Murray— "Special Accommodation for Community Service," and a proclamation naming "October 13th Ann Murray Day".
Trailblazers like Sister Ann Murray and her dedication to education, activism in the community and persistent volunteerism is what makes San Diego, America's Finest City. We want to congratulate Mrs. Murray on her rich legacy, and all of her achievements through the years.
Happy 88th birthday, Sister Ann Murray!