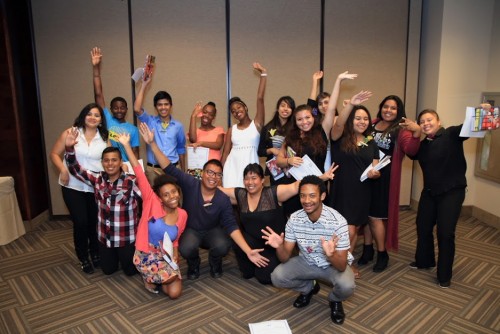 SAN DIEGO – On Wednesday, Aug. 19, hundreds of students, parents and community leaders attended the second annual celebration dinner for the Full STE[+a]M Ahead summer youth program at the Jacobs Center for Neighborhood Innovation's Celebration Hall. This program, started by the Jacobs Center, partners with community-based organizations to offer a comprehensive curriculum that combines science, technology, engineering, the arts and math (STE[+a]M) to better prepare high school students in Southeastern San Diego for today's competitive careers. The program also incorporates leadership development skills so that students recognize themselves as positive change-makers in their community. This year's partner organizations included UC San Diego Extension, the Elementary Institute of Science (EIS), Project New Village, the AjA Project and San Diego Futures Foundation, with funding provided by SDG&E.
Forty-five students completed this year's program, more than double the previous year. The increased participation allowed the program to expand to include two tracks of study and incorporate a stronger arts component. Track one of the program focused on science, urban agriculture and food justice. Track two focused on storytelling through photography and creative place-making.
At the celebration, students presented their final projects, and attendees had the opportunity to vote for their favorite. The projects addressed environmental topics, including water conservation, composting, permaculture and food production, to help foster the development of a stronger and more sustainable community. Creators of the winning project on composting each received a $100 Best Buy gift card.
A special addition to this year's celebration dinner was the unveiling of student-designed art concepts that will replace the Community Faces murals in the Market Creek Plaza retail center near Market Street and Euclid Avenue. Students used photography to create a dialogue around current perceptions of their neighborhoods and the role creative place-making plays in positive community change. The art concepts will be finalized and produced later this year and will be seen by thousands for years to come.
The Jacobs Center serves as an incubator for ideas that help revitalize Southeastern San Diego's Diamond Neighborhoods. It works with community-based organizations to build their capacity and facilitate programs that improve the quality of life for local residents. The Full STE[+a]M Ahead program is one example of this work. Next year, the program will transition to EIS with support from UC San Diego Extension. To learn more about EIS' work and educational programs, visit www.eisca.org.
To read press release in its entirety and to learn more about the Jacobs Center for Neighborhood Innovation center visit: www.jacobscenter.org.