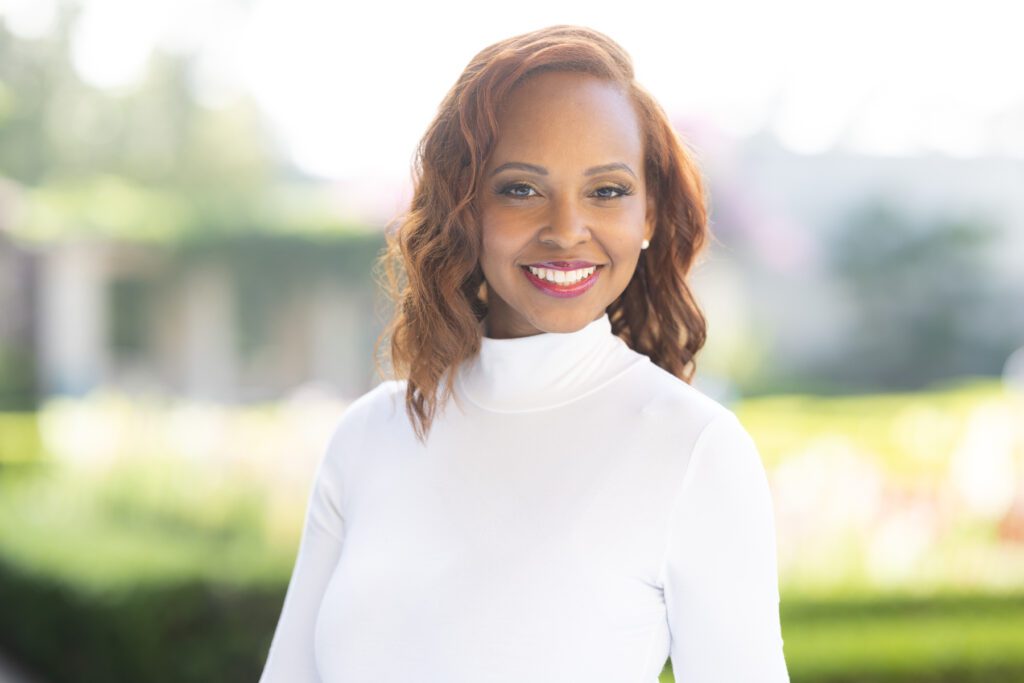 Photo by Rich Soublet II
The Old Globe is pleased to announce that Adena Varner has been appointed as its new Director of Arts Engagement. A theatre arts leader, creator, innovator, and advocate of diversity and equity in a career that has spanned 20 years, Varner will assume her position at the Globe beginning August 1, 2023. She will lead a department of more than 30 employees and teaching artists that engages tens of thousands of people in neighborhoods around San Diego in theatre and theatre-related programming.

Varner comes to The Old Globe from St. Louis, where she most recently was the Director of Learning and Community Engagement at The Repertory Theatre of St. Louis. Native to Baltimore, Maryland, she was also the Director of Learning and Social Accountability at Baltimore Center Stage before joining The Rep in 2020. She is a playwright, producer, director, performer, and educator committed to advocating for equity and diversity in the arts and increasing access to art for all children. She is a member of Theatre for Young Audiences and the Educational Theatre Association. Varner received her B.F.A. in Theatre from University of Maryland, College Park and her M.A. in Theatre Education from The Catholic University of America. Her directing credits at The Repertory Theatre of St. Louis include Tomás and the Library Lady, The Glowy Snowy Day, The Last Fresh Start, and The Miraculous Journey of Edward Tulane. She acted in Center of Creative Arts's production of The Wolves.

"The Old Globe's arts engagement programming is central to the life of this great company," said Erna Finci Viterbi Artistic Director Barry Edelstein. "Our work bringing theatre and theatre-related activities to communities throughout San Diego is an expression of our commitment to the idea that this art form matters, and that it impacts our city and its people in positive and beautiful ways. That Adena Varner will be joining us to lead our efforts in this area is a great joy. Adena is one of our country's most thoughtful and talented practitioners of community-oriented theatre. In her previous posts she demonstrated remarkable innovation and creativity as she built meaningful and lasting programs. She will bring to San Diego her considerable strategic acumen, leadership ability, charisma, and, most of all, abundant warmth. Adena is a passionate believer in the theatre's power to make a difference in individual lives and to foster greater understanding between people. She will take the Globe's nationally renowned work to a new level of achievement. I am thrilled to welcome her to our team and our city."

"I am humbled and beyond thrilled to join the great legacy of The Old Globe. What a privileged opportunity I have, to lock arms with new colleagues and partners, as we serve the beautiful and culturally rich community of San Diego and its surrounding regions," said The Old Globe's newly appointed Director of Arts Engagement Adena Varner.
The Tony Award–winning The Old Globe is one of the country's leading professional not-for-profit regional theatres. Now in its 88th year, the Globe is San Diego's flagship performing arts institution, and it serves a vibrant community with theatre as a public good. Under the leadership of Erna Finci Viterbi Artistic Director Barry Edelstein and the Audrey S. Geisel Managing Director Timothy J. Shields, The Old Globe produces a year-round season of 16 productions of classic, contemporary, and new works on its three Balboa Park stages, including its internationally renowned Shakespeare Festival. More than 250,000 people annually attend Globe productions and participate in the theatre's artistic and arts engagement programs. Its nationally prominent Arts Engagement Department provides an array of participatory programs that make theatre matter to more people in neighborhoods throughout the region. Humanities programs at the Globe and around the city broaden the community's understanding of theatre art in all its forms. The Globe also boasts a range of new play development programs with professional and community-based writers, as well as the renowned The Old Globe and University of San Diego Shiley Graduate Theatre Program. Numerous world premieres—such as 2014 Tony Award winner for Best Musical A Gentleman's Guide to Love and Murder, Bright Star, The Full Monty, Dirty Rotten Scoundrels, and Dr. Seuss's How the Grinch Stole Christmas! —have been developed at The Old Globe and have gone on to highly successful runs on Broadway and at regional theatres across the country.
---