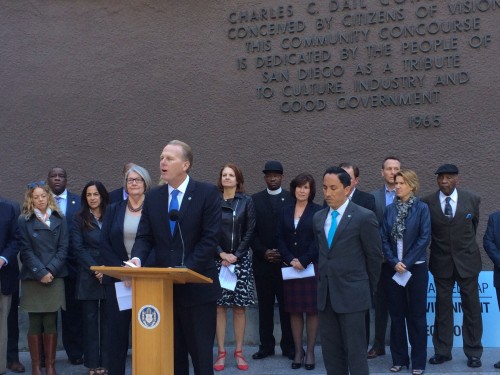 SAN DIEGO, Calif. (December 17, 2015) – On Tuesday the San Diego City Council voted 8-0 to approve a progressive Climate Action Plan, which creates legally binding mandates for reducing levels of greenhouse gases. The plan includes a variety of tactics for the city of San Diego to implement to achieve its goals. Areas of focus include renewable energy, transportation, boosting the urban tree canopy and sustainably disposing solid waste.
San Diego Mayor Kevin Faulconer hosted a press conference before the council meeting announcing the final vote for the Climate Action Plan. He expressed the significance the Climate Action Plan has on the quality of life in San Diego.
"We have the opportunity to make San Diego one of the green energy and solar capitals of the world," said Faulconer, "We are a leader in sustainability and innovation. Let's use our creative spirit to preserve our children's future. Let's pass on a San Diego that is cleaner and with more opportunities than when we received it."
The city's goal is to have 100 percent clean energy by 2035, which would make San Diego the largest city fully powered by renewable energy. The San Diego rooftop solar industry, which is second in the nation per capita, is currently providing a $1 billion economic benefit to San Diego County. That amount is slated to increase once the Climate Action Plan goes into effect.
"In San Diego we have a thriving solar power industry that is ready and eager to move the city of San Diego away from fossil fuels," said Daniel Sullivan at the Mayor's press conference on Tuesday, "Our local industry is poised to rise to the challenge and systematically unplug entire communities from fossil fuels."
The Climate Action Plan not only received bipartisan support within the council, but has such broad support in the community. There were 95 San Diegans who signed to speak at the council meeting, 93 of which were in favor of the Climate Action Plan, while two people opposed stating they wish it was stronger. Representatives ranged from a local labor union to a reverend to an environmental justice nonprofit to an organizations trying to keep the Chargers in San Diego. All made pleads to the city council as to why the Climate Action Plan was important and necessary.
Councilmember Todd Gloria, who stated that climate change is the single biggest issue facing the world today, was praised by Mayor Faulconer, councilmembers and the public for efforts Gloria made while interim mayor. Mayor Faulconer credited the success of the Climate Action Plan to Gloria, who worked closely with Nicole Capretz, his former staff member and now executive director of the Climate Action Campaign. Gloria credited Capretz for playing an instrumental role in the progress of the Climate Action Plan.
"I hope you realize that this will be the most important issue that you work on" Capretz told both Mayor Faulconer and the entire council, "We are making a down payment on our future. This is beyond party politics. What's important is that we're protecting our quality of life for future generations."
Upcoming goals for the Climate Action Plan include cutting car trips in key transportation areas by 20 percent by 2020 and 50 percent by 2035; expanding the urban tree canopy by 15 percent by 2020 and 35 percent by 2035; recycling or composing 75 percent of all solid waste by 2020 and 35 percent by 2035.
Sacramento is currently the only other city in the state with enforceable mandates on this issue.
Mayor Faulconer acknowledges this is the first step to a sustainable San Diego with work ahead to achieve these ambitious goals.
About Sullivan Solar Power
Sullivan Solar Power is a turnkey solar system provider that delivers solar electric projects from concept to completion. The company has installed more than 30,000,000-watts of solar power ranging from small-scale residential to large-scale commercial and municipal systems. Sullivan Solar Power is headquartered in San Diego, Calif. and owned and operated by Daniel Sullivan. Sullivan Solar Power has a longstanding A-plus rating with the Better Business Bureau, with no complaints filed since the business began. The firm has been named one of the fastest growing energy companies in the nation by Inc. Magazine for three consecutive years and services all of Southern California. Regardless of project size and scope, Sullivan is committed to delivering the best products and the most qualified professionals to its customers. Visit http://www.sullivansolarpower.com for more information.