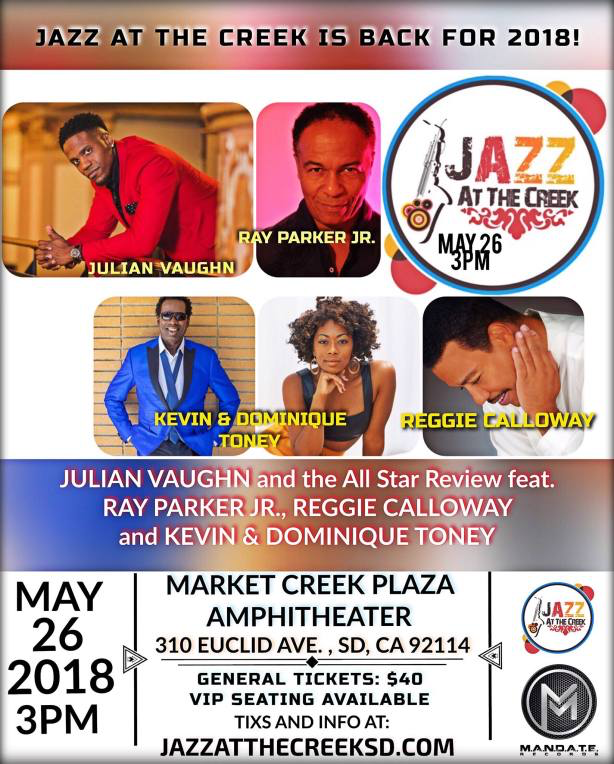 Event: Jazz at the Creek – 2018 Summer Concert Series 
Date: Saturday, May 26th, 2018
Time: 3 p.m. – 8 p.m. (2 p.m. doors open)
Place: Market Creek Plaza Amphitheatre, 310 Euclid Avenue, San Diego, CA 92114 
SAN DIEGO, CA – Jazz at the Creek, (JATC) will celebrate the 2018 season with a new level of sophistication and superior quality entertainment for the discerning jazz fan. The concert series planning committee sought and acquired such notable entertainers we're calling it our "Legends Show" with musical innovators such as Kevin Toney of the Blackbyrds and his daughter, Dominque, Reggie Calloway of Midnight Star and featuring Ray Parker Jr. You won't wanna miss a moment of the lively and impromptu interactions in this intimate setting with the dynamic bassist and show opener, Julian Vaughn on your Memorial Day weekend starting on May 26. 
The 21+ event venue has heightened it appeal as a premiere Southern California attraction with  elevated entertainment coupled with unique dining and leisure experiences as our "Sanctuary Lounge,"  with its' designated relaxation area, a customized shoppers quad with unique food items.
Vendor list include:
Pearson's Louisiana Cajun/Creole Food: catfish, chicken, shrimp, cajun fries, potato salad, collard greens, sweet potato pie, peach cobbler, and lemonade
Smokin' J's BBQ: Baby back ribs, sliced brisket, paella sausage (rice, beans, pork, chicken, shrimp powder), beef hotlinks, jalapeno cheddar cornbread, mac & cheese, slaw and fried plantains with smoked blueberry drizzle
Kitchens for Good: fruit cups
be Runa: seed salt and seed spice (handcrafted blend of 9 different organic seeds, superfoods, superfruits, spices and coconut palm sugar)
Black San Diego: informational
JIVDesigns: original fine hand crafted jewelry for men & women
LK Fashion Boutique: African original designed hand made Men's & Women's clothing and accessories
Global Impressions: products from around the world: African, Indian, etc. One-of-a-kind clothes to inexpensive but exotic foreign incence, oils, soaps and trinkets
Ne Ne's Collectables: original hand crafted art on handbags, jewelry,wooden boxes, T-shirts, jewelry, coffee mugs, poetry books
PJ Hats & Accessories: men & women hats, costume jewelry, tote bags
Kristi Luvs Connection: plus size clothing & sunglasses
Diva's Way: upscale women's clothing & hats
BBVA Compass: home buying informational
Donna Hale, CEO and Owner of FEH Consulting, LLC and a successful Information Technology Executive, is sponsoring a hand-rolled cigar booth for new and returning concertgoers. She is a JATC committee member and connoisseur of fine cigars; she is affiliated with multiple club memberships around the county and will sponsor this classy new temptation.
Tickets for general admission are $40 in advance and $50 at the door.  VIP Dinner/Concert Packages for one guest is $80 in advance and $90 at the door with your choice of vegetarian or combo meat/fish plate. Ticket available at www.jazzatthecreeksd.com or at ticketleap.com at http://mandaterecords.ticketleap.com.
For more details contact:
Terri Fowler, M.A.N.D.A.T.E. Records, Inc.
(858) 480-1314, office / voicemail no.