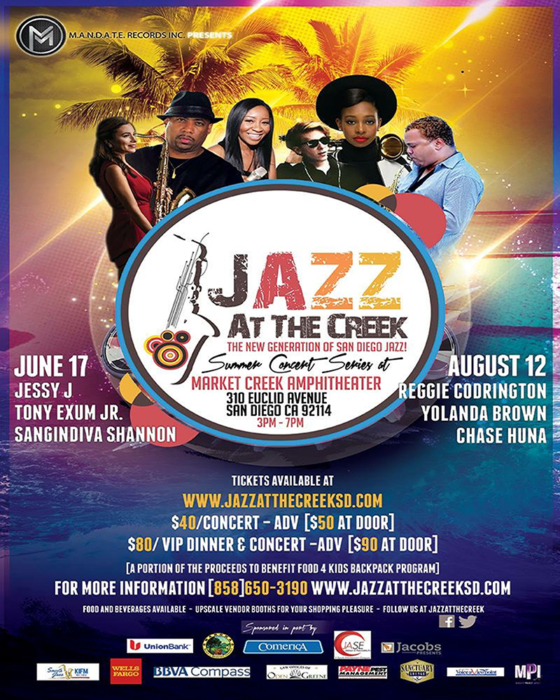 San Diego's premiere summer venue Jazz at the Creek is back for another sizzling hot season. Presented by M.A.N.D.A.T.E. RECORDS, INC., the concert series will be held on two separate dates at the redesigned venue, Market Creek Plaza Amphitheatre, located at 310 Euclid Avenue, San Diego, CA, 92114.
Guests will have an opportunity to  enjoy great food, shopping and a superb lineup of talent for scheduled summer performances on June 14th and August 12th.
In its sixth year, the 2017 Jazz at the Creek kicks off the summer music festival with headliner, the sassy saxophonist Jessy J, on June 14th.
With a distinctive Latin and R&B fusion style of smooth jazz, Jessy J burst on the jazz scene in 2006 as a standout artist, by commanding stage with her contemporary sax sounds and vibrant stage presence.
Also scheduled to perform at the opener are Tony Exum Jr., and vocalist, Sangindiva Shannon.
Smooth Jazz fan's won't wanna miss a moment of the lively and impromptu interactions in this intimate setting between fans and featured guest artists.
Reggie Codrington, one of the most popular saxophonists on the scene today, with a talent has lead him to share the stage with notable artists such as, Kim Waters, Ramsey Lewis, Kevin Toney, Frankie Beverly and Maze, and Charlie Wilson, to name a few, will headline on August 12th.  Joining Codrington on the stage are Yolanda Brown and Chase Huna.
Doors open at 2:00 p.m. with fantastic food, beverages and upscale merchandise on sale. Tickets for general admission are $40 in advance and $50 at the door. VIP Dinner/Concert Packages for one guest is $80 in advance and $90 at the door with your choice of vegetarian or combo meat/fish plate.
To purchase tickets for single shows, or for the entire series visit www.jazzatthecreeksd.com or  purchase on Ticket Leap at http://mandaterecords.ticketleap.com/jazz-at-the-creek-2017.
Portions of the proceeds go to the San Diego Food Banks' Food for Kids Backpack Program.
For more details contact: PublicistTerri Fowler, M.A.N.D.A.T.E. Records, Inc., at [email protected] or call the office 858-650-3190 (office); 858- 480-1314 (cell)