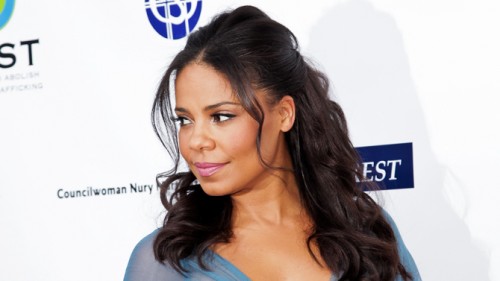 SANTA MONICA, CA (June 17, 2015) – Codeblack Films, a Lionsgate (NYSE: LGF) company, has partnered with Sanaa Lathan to executive produce and star in the feature film adaptation of the Flyy Girl book trilogy written by New York Times bestselling author Omar Tyree. The award-winning actress will star as the film's protagonist, Tracy Ellison, a beautiful, intelligent, and somewhat sassy goal driven woman.
Lathan's credit include: "The Best Man Holiday," "Brown Sugar," "Love & Basketball," and her upcoming release, "The Perfect Guy." Lathan will also star in Lionsgate's "Now You See Me 2" and the upcoming production of "The Best Man Wedding."
"I'm pleased to executive produce and star in Lionsgate and Codeblack's incredible adaptation of Omar Tyree's iconic Flyy Girl trilogy,"said Lathan. "So many people have grown up on this series and I'm looking forward to bringing Tracy Ellison's story to life through film. It's my hope to continue to help bring diverse stories to the big screen."
Academy Award®-winning writer Geoffrey Fletcher ("Precious") has been engaged to write the script.  Flyy Girl explores the journey of Tracey Ellison, a successful businesswoman and workaholic who believes that money is always the key to happiness. In the midst of her life journey, Ellison is forced to reinvent herself and rethink her relationships, her career and her definition of success. The second book in the series, "For the Love of Money," won an NAACP Image Award (2001, Outstanding Book, Fiction).
Tyree's books have been read by over 8 million people worldwide and have grossed more than $30 million for publishing giant Simon & Schuster. His brand is one of the most talked about in the urban community and his products can be found in 12 countries.
"Both Sanaa Lathan and Geoffrey Fletcher are welcome additions to this project and we could not be happier to have them on board to help us bring this story to life," said Codeblack Films President Jeff Clanagan. "Lathan's star power paired with Fletcher's nuanced script work – we're confident that Flyy Girl will prove to be a classic."
Focused on providing independent studios, filmmakers, globally-recognized celebrities, intellectual property rights holders and brands cross platform monetization solutions. Entertainment industry veteran Jeff Clanagan founded Codeblack Films in 2012.  Codeblack Films' core objective is to super serve the global Black community with quality programming and help its content and brand partners access the enormous spending power of the rapidly growing African-American consumer market. Codeblack Films' understanding of the social context of this fast evolving market — values, attitudes, behavior and current and emerging trends — provides the Company with a unique ability to position its content and brand partners in the center of influence.
In July 2013, Codeblack Films released the sleeper hit KEVIN HART: LET ME EXPLAIN from superstar comedian and actor     Kevin Hart, which generated over $32 million at the domestic box-office.