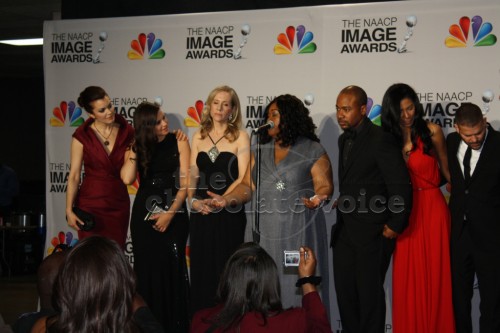 LOS ANGELES, CA – On Friday, February 1, celebrities and guests attended the 44th Annual NAACP Image Awards at the Shrine Auditorium, gathered to celebrate the extraordinary  accomplishments of people of color in film television and literature at the 44th NAACP Image Awards.  The primetime hit Scandal, staring award-winning actress Kerry Washington, and  created by Hollywood powerhouse Shonda Rhimes, walked away the big winners of the night.
The two-hour live special was hosted by Steve Harvey.
Some of the biggest names in film, television and music appeared including Archie Panjabi, Cedric The Entertainer, Common, Don Cheadle, Halle Berry, Keke Palmer, Lamorne Morris, Laz Alonso, LL Cool J, Meagan Good, Niecy Nash, Samuel L Jackson, Terrence Jenkins, Tony Goldwyn, Tyler James Williams, Wanda Sykes and Wayne Brady.  Gladys Knight performed "The Way We Were" for the in memoriam segment and Wyclef and Common performed a version of Belafonte's "Day-O."
Jamie Foxx was named Entertainer of the Year.
Dennis Haysbert with NAACP Chairwoman Roslyn Brock presented the NAACP Chairman's Award to Vice Admiral Michelle Howard, Diahann Carroll with NAACP President Benjamin Jealous presented the NAACP President's Award to Kerry Washington and Sidney Poitier announced Harry Belafonte as the Spingarn Medal recipient.
David Oyelowo, Dwight Henry, Eddie Cibrian, Garcelle Beauvais, Quvenzhané Wallis and James Remar introduced film packages.  Dennis Haysbert was the in-show announcer.
The NAACP Image Awards is the premier multicultural awards show.  It celebrates the accomplishments of people of color in the fields of television, music, literature and film, and also honors individuals or groups who promote social justice through creative endeavors.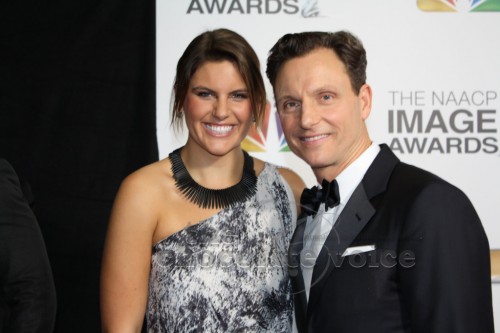 The NAACP Image Awards production team included Executive Producers Reginald Hudlin and Brad Lachman. Bill Bracken served as Supervising Producer and Byron Phillips as Producer. The production team also included Tony McCuin as Director and Melanie Massie as the Talent Executive.
Nominees for the NAACP Image Awards are determined by the number of entries received by the deadline.  To be eligible, projects must have had a national distribution date between January 1, 2012, and December 31, 2012. For the 2012 voting period, over 1,200 submissions were received by the artists, managers, publicists, production companies, record labels, studios, networks and/or publishers. From those entries, a nominating committee of 300 industry professionals and NAACP leaders from across the country select five nominees in each of the 53 categories. Those results were announced at a press conference. To determine the winners, the members of the NAACP vote via a secured online site. The results are tabulated by the Image Awards auditors, Bert Smith & Co., and the results are confidential until the envelope is opened LIVE on stage during the NBC telecast on Friday, February 1, 2013.
Event sponsors include:  FedEx, UAW/Chrysler, AT&T, Hyundai Motor America, Wells Fargo, General Motors, Walmart, Bank of America, Walgreens, Gilead Sciences, AARP, Ford Motor, Anheuser Busch, Pepsico.
For all information and latest news, please visit the official NAACP Image Awards website at http://www.naacpimageawards.net.
Here are a few highlights from the evening: