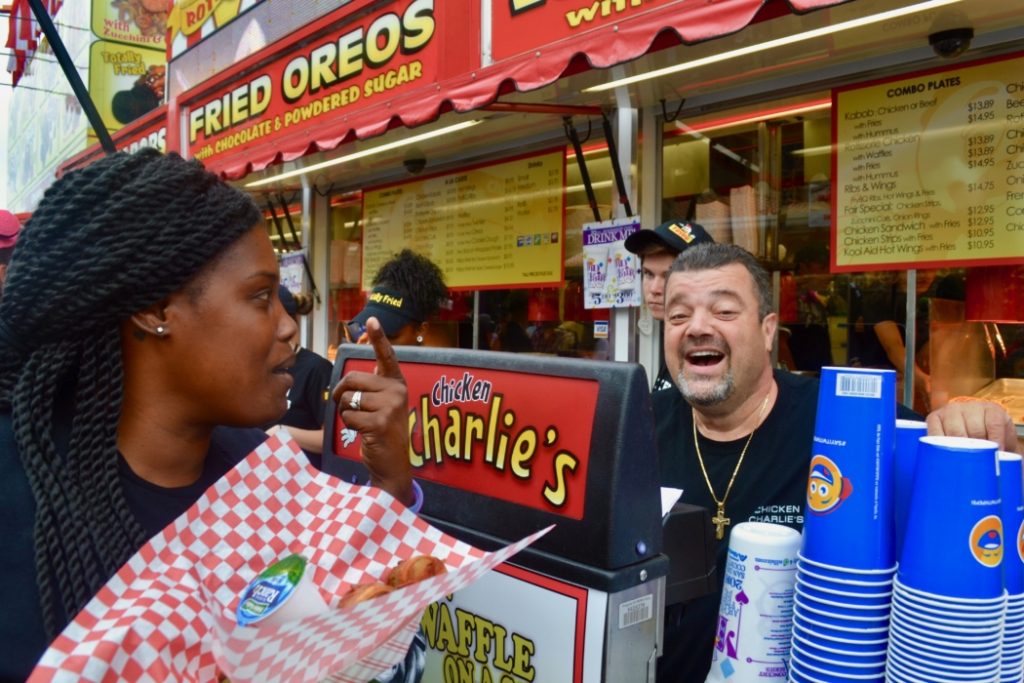 Photo:  The owner of Chicken Charlie's serving up all things chicken and beef including, Kool Aid Hotwings, while chatting it up with a fairgoer. Credit:  Gwen Pierce
San Diego — It's that time of year again folks: "The Wild Wild West" is headed for Del Mar fairgrounds for the 2017 San Diego County Fair.
For local's, it's the largest and oldest annual event, and the official kick-off to summer. This year's theme, "Where The West is Fun," is sure to bring out the cowboys and cowgirls for a stomping good time. So saddle up and get ready to join in on the fun!
The San Diego County Fair is the 5th largest Fair in North America, the largest County Fair in U.S. and the largest Fair in California! Aside from minor interruptions, the Fair has been held annually since 1880.
Attendance for the 2016 San Diego Fair was at an all time high with – 1,609,481 people attending. This was over 61,000 per day!
Here's your guide on some quick information you should know before attending.
The fun begins on Friday, June 2 for a sneak peek and runs through July 4. Admission to the fair is adults 13-61- $18, senior citizens (62+) and ages 6 to 12 are $11, and kids who are 5-years-old and younger are free. Tickets are on sale now through Ticketmaster or at the Del Mar Fairgrounds Box Office at the O'Brien Gate.
Toyota Summer Concert Series throughout the 28 days of the fair will include performances by Aloe Blacc, Peter Cetera, WAR, Patti LaBelle, Frankie Valli and the Four Seasons, Darius Rucker, the popular Gospel Festival, featuring Hezekiah Walker and Tasha Cobbs, Jeremiah, comedian and Daily Show host Trevor Noah, and many more.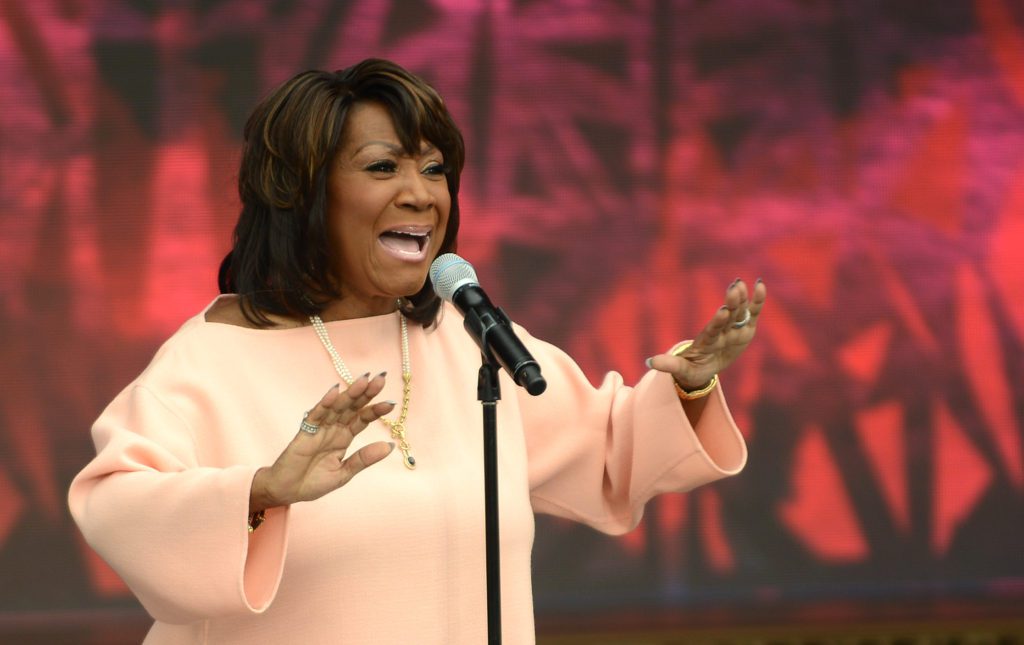 If you are still a kid at heart who now also has a kid, the carnival section is where you want to be. Two types of carnival sections will be available for everyone: The Kiddie Land Carnival is for families with younger children and  the main Carnival is designed for those thrill seeking adults.
Guests can purchase tickets to go on all the rides or you can purchase individual tickets at the ticket booth, or, for one price with a Pay-One-Price Ride Day wristband! You can buy the wristband at the Fair on Wednesdays and Thursdays (through June 22), or you can buy it online and take advantage of several "online only" days early in the Fair. Click here to see what the fair has to offer for tickets and deals.
For all the horse lovers out there, the fair will be having horse shows that include learning how to saddle up, rope and ride.  And, if you're feeling a bit parched, there will be a Painted Pony Saloon for a sip on sarsaparilla, and an opportunity to explore and old stagecoach.
And, as for the real reason why anyone goes to fairs, the food is going to be great. Deep fried lemonade, cinnamon rolls, kabobs, grilled corn, jumbo turkey legs There are going to be many options to choose from, so come hungry.
The Fair is closed Mondays (except July 3) and the first three Tuesdays. Main gate hours will open on Monday through Friday at 11 a.m. and on weekends at 10 a.m. All the exhibits open at the same time as the main gate but each hall close at different hours of the night.
The San Diego Fair opens Friday, June 2, through Tuesday, July 4 at the  Del Mar fairgrounds located at 2260 Jimmy Durante Blvd, Del Mar, CA 92014. General parking onsite is $13.00 and preferred parking is $23.00.