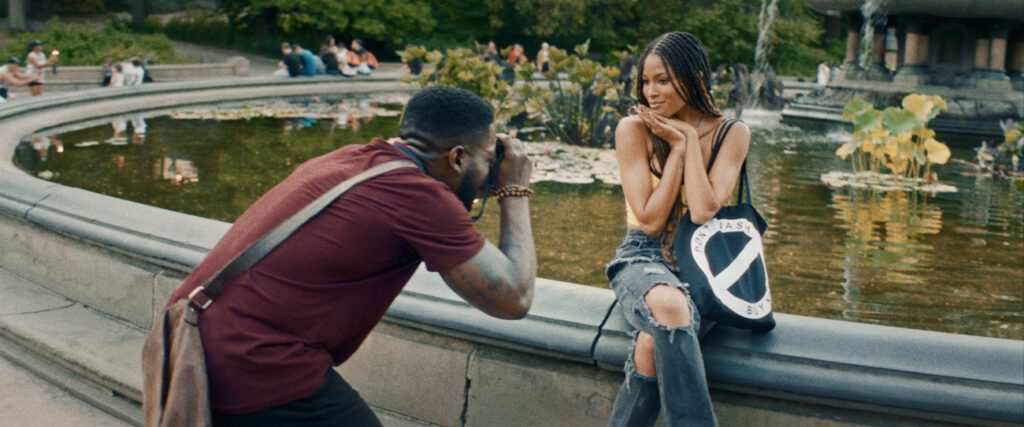 Short Film Review By:  Gwen Pierce
JOY & JIM is a magnificently crafted episodic short film that gives off all of the feels of a classic black love story, where a random encounter starts out rocky, but quickly turns into a story about two people trying to figure it all out. Perhaps along the same lines as cult classics like, Love Jones or Poetic Justice.
Making its world premiere at the Pan African Film Festival, Sunday, February 28th, JOY & JIM stars Lex Scott-Davis (star of ABC's upcoming Spring series Rebel, The Purge, Toni Braxton: Unbreak My Heart) and popular social media creator Greg Davis Jr. (known as Klarity).
One of the main highlights for me, was the imagery of seeing Black love represented through the lens of passionate creatives. Another, was the visually stunning cinematography. Cinematographer Nathan Haugaard, does a remarkable job of capturing the best of New York by romanticizing the city, while keeping it authentic. The film starts out with the sound of Tupac's "Keep Ya Head Up," blaring in the background as (Jim) Greg Davis, Jr., is biking in traffic through the semi-crowded streets of scenic Manhattan.
On his route, the panoramic view of the city is breathtaking as Jim passes the Brooklyn bridge, quaint antique and pawn shops, brownstones, graffiti tagged buildings, all the while messages and annoying notifications from his cell phone keep going off. Obviously frazzled by what's on the messages, he ignores them, hops off the bike, parks it and jumps on the Subway. He whips out his Canon EOS camera, and begins taking artsy pictures, finding beauty in anything that's appealing to his eye.
Eventually, he ends up in Central Park where he spots this beautiful, high spirited girl (Scott-Davis) talking on the phone. He over hears her conversation. She seems to be engaged in a heated argument about having come all the way from Baltimore, only to learn that an audition that she scheduled has been cancelled. She aggressively throws down the phone, and catches Jim taking pictures of her. At first, the girl in all of her brash and sass is enraged that a stranger is taking her picture without her permission and goes off on him, harshly. She asks to see the pictures and he refuses by saying that he has to edit them. Once he tells her that, she tells him that she's just kidding and walks away.
As she walks away confidently exuding "Black Girl Magic," he asks her if she's a model. She says, "Something like that," and keeps going and tells him "see ya later." As she walks away, her stylish and long flowing box braids are moving in sync with the wind. She's wearing street style ripped up jeans and a graphic tank top, which sparks the photographers attention even further. At this point, Jimmy, as he introduces himself, obviously feels some sort of attraction, so he asks for her name and asks if he could walk with her. She tells him, it's Joy. He says, "Well, what do you know, we both have J's in our names, it must be fate."
With Joy leading the way, here's where the magic of a relationship between struggling creatives that are unsure what direction their careers are going in begin, as there spirits are being uplifted through the magic of the city.
JOY & JIM is a 30 minutes long moving portrayal that follows two creative individuals that start out as strangers who randomly find love against the unmistakably rhythmic landscape of New York City. This is the first of a planned twelve part episodic series, with additional episodes to debut in 2021. It's a short with great acting and alot of visually stunning scenes. It will be exciting to follow the characters and learn their fate throughout the entire series.
The film was created and executive produced by Greg Davis Jr, who stars as Jim. Lex Scott Scott-Davis, stars as Joy and is assistant producer. JOY & JIM was written by Hash Sesay, directed and executive produced by Rob Gordon Bralver, produced by Mo McRae. Cinematography by Nathan Haugaard and produced by Kacee Devoe.
2021 Pan African Film Festival goes from February 28 – March14, 202lFilm and Ticket info: https://www.paff.org/films/joy-and-jim/