Via Press Release, Carlsbad, CA, (January 23, 2014)—The National Association of Music Merchants (NAMM) honored Motown artist Smokey Robinson with the "Music for Life" award. Robinson is recognized for his five decades of enduring influence in the world of popular music, and his long standing as one of the founders of the Motown dynasty.
At the 2014 NAMM Show's Breakfast of Champions held January 23, 2014, NAMM president and CEO Joe Lamond welcomed the beloved writer, producer, and performer, whom Bob Dylan once called 'America's greatest living poet.' Lamond praised the Rock and Roll Hall of Famer's generosity in embracing emerging musicians, his genuine enthusiasm for new musical styles, and his enduring status as an icon that paved the way for so many contemporary artists.
"So much of what we at NAMM stand for is exemplified in the career and life of the legendary Smokey Robinson," Lamond said. "His influence on musicians, producers, writers and even sound engineers continues to be profoundly felt today. He is a symbol of creativity and a beacon of inspiration to many.  His music is authentic and emotionally real, and it is his ability to touch so many people with this talent that makes Smokey Robinson a true ambassador for music."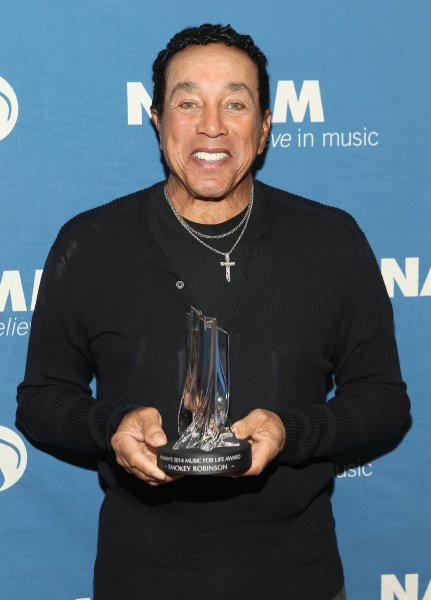 NAMM's "Music for Life" award recognizes individuals and organizations that demonstrate support for and exemplify NAMM's vision that the joy of making music is a precious element of daily living for everyone. Past recipients have included Stevie Wonder, Yoko Ono, Quincy Jones, as well as members of Congress, governors, business leaders, the Smithsonian, and Sesame Workshop.
A native of Detroit, Robinson found success early on as a founding member of The Miracles. The group's success, and Robinson's considerable vision and influence helped Berry Gordy establish Motown Records as a tidal force in the world of popular music. As vice president of Motown Records, Robinson served as in-house producer, talent scout and songwriter, penning hits for the Miracles as well as acting as writer and producer for The Temptations, Mary Wells, Rick James, Marvin Gaye and others. His accomplishments set the stage for an entire genre of dynamic performers and led a musical revolution that defined the sound of an era.
In 2006, Robinson was selected to be a Kennedy Center Honoree for his contributions to the arts and American culture. He is a member of both the Rock and Roll and Songwriters' Hall of Fame, has earned a GRAMMY Legend Award and been honored with a National Medal of The Arts.
Robinson will release a duets LP in 2014, which will include a line-up of all-star duet partners performing some of his most beloved classic songs with him.
###
About NAMM
The National Association of Music Merchants (NAMM) is the not-for-profit association with a mission to strengthen the $17 billion music products industry and promote the pleasures and benefits of making music. NAMM's activities and programs are designed to promote music making to people of all ages. NAMM is comprised of more than 9,000 Member companies located in more than 92 countries. For more information about NAMM or the proven benefits of making music, interes