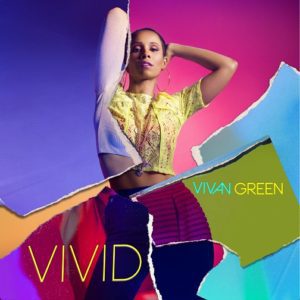 The Philadelphia born songstress who brought you the Gold selling emotive album A Love Story is back with her fifth studio album Vivid, released on MakeNoise/Caroline Records. Produced entirely by Kwamé Holland (Mary J Blige, Christina Aguilera, Keyshia Cole, Fantasia) the album showcases Green's ability to deliver feel-good upbeat records as well as the ballads for which she has become known, exhibiting the songbird's effortless vocal prowess.
The stand-out first single "Get Right Back To My Baby" received over 1.4 million Youtube views while peaking at #4 on urban radio -featuring a sample from Maze ft. Frankie Beverly's classic "Before I Let Go."
Vivid is undoubtedly full of zeal – the song "Broken" gives an adult approach to loves disappointments, while "Work" one of our personal favorites, expresses energetic desire. The track "123" urges lovers to always keep something for themselves, while "I'm Blessed" inspires gratefulness.
Vivian says,"This album is fresh and spirited, sassy and funny at times. It's different from my other albums because of the energy; but very much still me."
In the ever-changing music business Vivian Green has stayed afloat delivering classy, heartfelt, and often therapeutic music for her fans. Vivid will assuredly continue her legacy in music.
She says, "Some fans want me to deliver brokenhearted music, and perhaps I will in the future if I'm in that space. What I can and will always do is produce music that is from my heart."
We promise, you'll be up and ready to groove on this one.
Check out R& B vocalist Vivian Green in her latest music video "Grown Folks Music."  Happy #MusicMonday!
Enjoy!