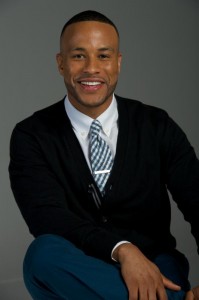 (Press Release) CULVER CITY, Calif., July 8, 2014 – Sony Pictures Entertainment announced that DeVon Franklin will transition from his position as senior vice president of Production for Columbia Pictures to a long- term, first-look producing deal with the studio. In his new role, Franklin will continue to develop and produce mainstream commercial material, including projects that are geared towards the urban and faith-based markets. Franklin will work across feature film and television units at Sony Pictures Entertainment.
Franklin joined Columbia Pictures in 2005. Since then, he has overseen a number of the studio's hit films, including The Karate Kid, The Pursuit of Happyness, 21, and Jumping the Broom. Recently, Franklin oversaw the sleeper hit Heaven is For Real, buying the book for the studio, supervising production, and actively participating in the marketing and publicity effort.   Produced on a modest $12 million budget, Heaven is For Real outpaced all industry estimates and is on its way to grossing more than $100 million at the box office.
In his new role, Franklin will join Joe Roth and T.D. Jakes as a producer on Heaven Changes Everything, the sequel to Heaven Is for Real, and Roth and his son Zack, as a producer on the inspirational sports film Unleash the Mules.  He will also join Escape Artists' Todd Black, Jason Blumenthal and Steve Tisch as a producer onMasters of the Universe, and join Dana Brunetti as a producer on the film adaptation of the blockbuster PlayStation franchise Gran Turismo.
Commenting on the announcement, Doug Belgrad, president of Columbia Pictures said, "DeVon is a rare talent. The same characteristics that made him such a valuable asset to Columbia Pictures will also make him an excellent producer.  DeVon has a natural instinct for finding great material and a wonderful ability to work with filmmakers and talent alike."
Belgrad continued, "DeVon was the catalyst behind Heaven is For Real, demonstrating his unique ability to find and champion material geared to underserved audiences that also possess genuine mainstream appeal.  His mandate will include all audience pictures and niche films with breakout potential.   I'm confident that he will continue to create films that will deepen our slate with a wide variety of entertainment for diverse audiences."
Franklin added, "Sony has been my home for nearly a decade, becoming a producer has always been a career goal and I deeply appreciate Michael, Amy and Doug allowing me this amazing opportunity to do so at SPE. I'm motivated and determined more than ever to produce powerful, commercially viable films and shows that will uplift audiences all around the world."
A published author, preacher and highly sought after motivational speaker who wrote "Produced By Faith," a best-selling self-help book outlining his strategy for success and chronicling his experiences in the entertainment industry, Franklin joined the studio from Metro-Goldwyn-Mayer Pictures, where he served as an executive, shepherding such projects as Be Cool and Beauty Shop.
He began his career as an intern for Will Smith and James Lassiter at Overbrook Entertainment Franklin earned a bachelor's degree in Business Administration with a minor in Cinema-Television from the University of Southern California.