Buttered biscuits, bacon, collard greens seasoned with ham hocks, fried pork chops, macaroni and cheese, deep-fried chicken, fried fish, barbecue chicken and ribs, candied yams coated with cinnamon and brown sugar; all taste so good makes you want to slap yo mama! Figuratively speaking that is!
On January 14, premiering on PBS is the film Soul food Junkies. In the film, award- winning documentary filmmaker Byron Hurt (Hip-Hop: Beyond Beats and Rhymes) sets out on a historical and culinary journey to learn more about the soul food tradition and its relevance to black cultural identity.   Startled by his father's own unwillingness to change his eating habits, Hurt sets out on a journey to explore rich traditions embedded in the mindset of Soul Food junkies.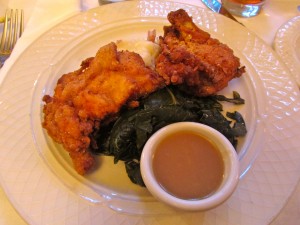 In 2004, doctors diagnosed Hurt's father with terminal pancreatic cancer, a virulent disease that disproportionately affects black people. One of the risk factors for developing pancreatic cancer is a high fat, meat-based diet. Hurt's father died in 2007 at the young age of 63.
On his journey to educate the community, Hurt shares his findings that 68% of African Americans are overweight and, overall cancer rates are higher in blacks are higher in comparison to other groups. This is sadly a common story in the lives of many African American families in the U.S. — losing loved ones too soon from a nutrition-related illness.
Through candid interviews with soul food cooks, historians, and scholars, as well as with doctors, family members, and everyday people, the film puts this culinary tradition under the microscope to examine both its positive and negative consequences. Hurt also explores the socioeconomic conditions in predominantly black neighborhoods, where it can be difficult to find healthy options, and meets some pioneers in the emerging food justice movement who are challenging the food industry, encouraging communities to "go back to the land" by creating sustainable and eco-friendly gardens, advocating for healthier options in local supermarkets, supporting local farmers' markets, avoiding highly processed fast foods, and cooking healthier versions of traditional soul food.
Heartfelt, insightful and at times humorous, Soul Food Junkies, addresses startling health concerns of African American families as it relates to poor nutrition habits.
For local listings check: http://www.pbs.org/independentlens/broadcast.html
Byron Hurt is an award-winning documentary filmmaker, published writer, anti-sexism activist, and lecturer. Hurt is also the host of the Emmy-nominated series, Reel Works with Byron Hurt. The Independent named him one of the "Top 10 Filmmakers to Watch" in 2011. His most popular documentary, Hip-Hop: Beyond Beats and Rhymes.