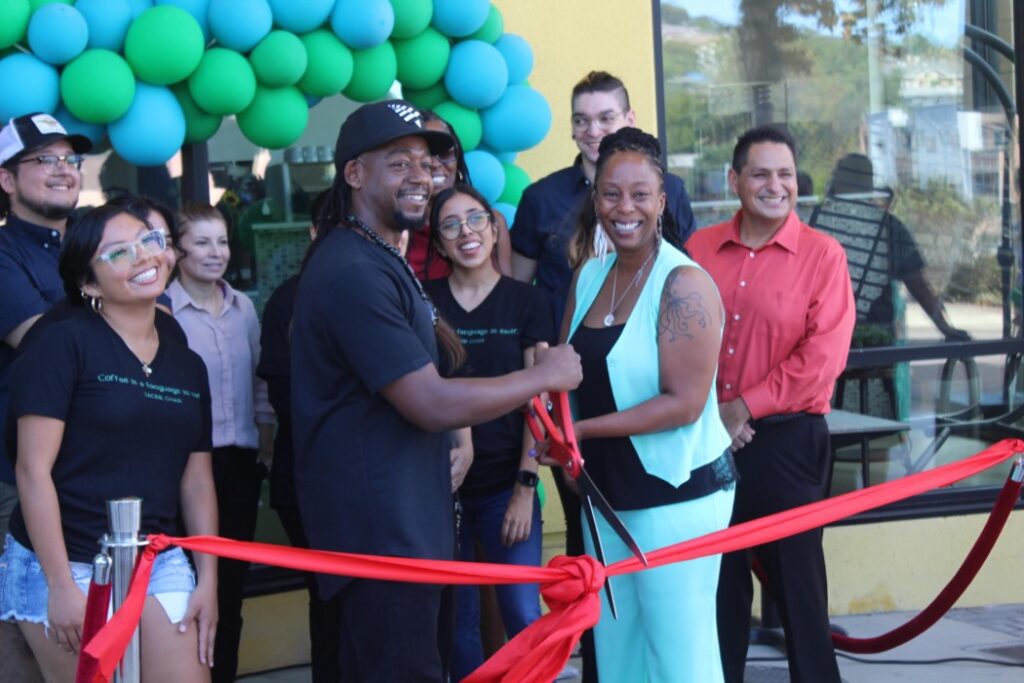 The Mental Bar, a Black-owned business located at 6325 Imperial Avenue, celebrated its grand opening with a ribbon-cutting ceremony on Saturday, September 24th, 2022. The brainchild of Daneyel and Tommy Walker, the Mental Bar was designed to bring the full café experience to the residents of Southeastern San Diego. Nestled in the Black Cultural Arts District the Mental Bar has delicious menu items, extraordinary aesthetics, free WIFI and an outdoor space featuring a mural representing San Diego's 4th District.
"In 2019, residents and business owners in the Diamond Business District mentioned that there wasn't a community space like a cafe that they could call their own," said Daneyel Walker. In 2020 the idea was born to establish such a place, housing it in Encanto Village, but the effects of the COVID pandemic slowed the process. "The journey had its obstacles, but two years later, we are excited to call Encanto Village home for the first Mental Bar."
This flagship location is 857 square feet of tranquility, suited with seating indoors and touts a cozy beer garden courtyard burrowed directly outside. Quotes from familiar celebrity figures are seen sprinkled throughout the venue, from the likes of the Wu Tang Klan and even Jackie Chan. "We are inspired by the Hip Hop culture and how coffee is crosses multiple cultures. We wanted to highlight the coffee culture and hip hop culture along with some of the most influential icons in the coffee industry."
Open seven days a week from 6:00 a.m. to 6:00 p.m. the Mental Bar not only has products for consumption in-store, but customers can leave with their favs or even order them online. "100% of all the coffee and tea that we offer is certified organic and sourced from sustainable farms, which yield a superior product and contribute to farms remaining in business," said Walker. "We also sell CBD infused tea that produces calming agents to help reduce stress and other ailments"
The Mental Bar as also partnered with a local company to introduce an at home wellness card and app that customers can use to find out the condition of their body.
Visit their website at www.thementalbar.com