In a new film premiering on August 26, "The Southside With You" audiences will catch a glimpse of what started out as an unofficial date with Barack and Michelle, before they were known as the Obama's.
Set in 1989, in Chicago, the film chronicles one entire day with 28-year old Barack Obama and 25-year old Michelle Robinson, as two young colleagues out and about the city exploring the arts, culture and humanity of the southside of Chicago, all while having universal, relatable conversations about life and family including their vastly different upbringings.
For some, this might seem kind of uneventful, but let's not forget, it's the future President and First Lady of the United States, who made history as becoming the first African American family to make their residence in the White House for two terms! There is something very special about the  connection between these two people and the future that awaits them.
"I was only looking to tell the story of the first date. I wanted to create a sense of intimacy and vulnerability. There's something special about the way the President and the First Lady look at each other. To me, their connection feels authentic, deep, and vibrant. And, that they're the President and the First Lady makes their dynamic all the more fascinating." Said writer/director Richard Tanne at a press conference this past Friday, at the London Hotel in Los Angeles.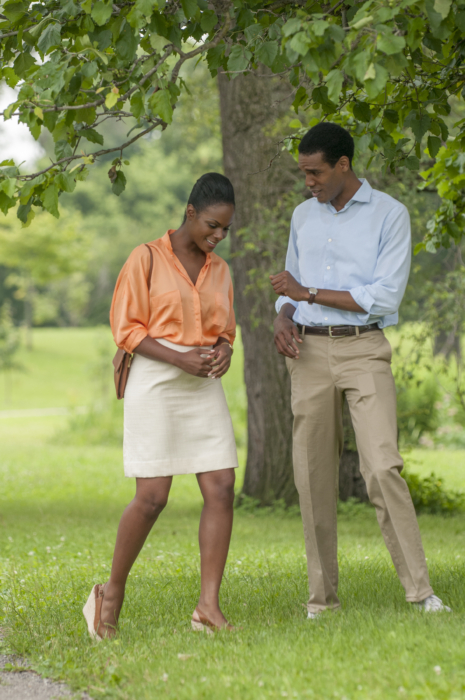 Throughout the film Robinson, played by the lovely and talented Tika Sumpter, who also serves as one of the films producer's, makes it clear that their time spent was not a date but as colleagues spending one day together.
What really makes the film is, Sumpter's portrayal of a strong, confident, compassionate and obviously very intelligent, Michelle.
Acting alongside Sumpter as the future President of the United States, is newcomer Parker Sawyers, who nails the role.  Aside from baring a striking resemblance, he embodies all of what the world see's in the presidents mannerisms- charisma, intelligence, swagger— all of it.
The film briefly introduces us to Michelle's parents with whom she lives with.  Her ailing father Fraser C. Robinson III, played by Phillip Edward Van Lear and her feisty mother Marian Robinson, starring veteran actress Vanessa Bell Calloway.
When asked in the press conference about his views on making a film about sitting Presidents being released while their still in office.
Tanne said this:
"I didn't think about the political ramifications of the film, I wanted to show a revolving connection between two people."
Although the Obama's have yet to see the film, executive Producer John Legend who was also at the press conference  said that he has spoken to them about it and invited them to check it out.
We hope they do.
"Southside With You" opens in theaters on August 26.  Check your local listings.