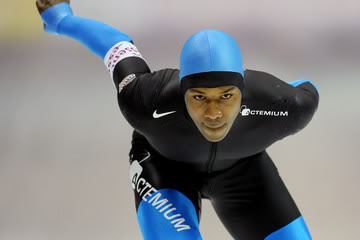 There's a strong chance that Shani Davis, a speed skater for the United States, will make history at the 2014 Olympics in Sochi, Russia.
As a matter of fact, Davis has already made history. The Chicago native in 2006 became the first African-American to win an Olympic gold medal in an individual sport at the Winter Games.
32 year-old Davis is the first man to win back-to-back Olympic gold medals in the 1,000 meters. He's now trying to become the first male athlete to win the same event at three consecutive Olympic Winter Games.
Standing at 6'2", he is also one of the tallest speed skaters in America.  According to Davis, who says that his success comes from hard work and training since he was six years old.
Common to most African Americans, Davis had to endure the racism and adversity within the world of speed skating, but unfortunately he also had to deal with being an outsider in his own community, seeing as how it is uncommon to see a black speed skater. Nevertheless, Davis used his critics as a tool to power his motivation and went on to take control of the world of speed skating.
Keep  on breaking those records, Shani!  You make us proud.