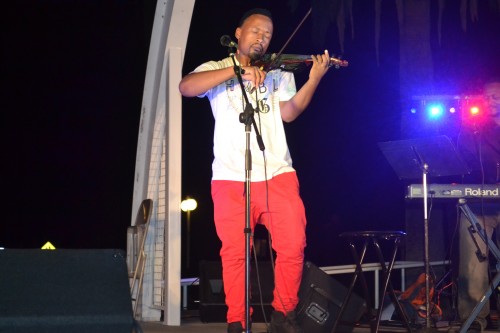 (Tucson, AZ) If you look hard enough, you'll find it. That is, the soulful happening's in Tucson, Arizona.
In a city such as Tucson, where the African American population is approximately less than 5%, soulful events featuring Black artist's are often few, far and in between. At least that's what local resident's have shared.
With that in mind, a few weeks ago, while in town on a family visit, I decided to grab my father and, head over to listen to Soul Music at Emory Park Downtown, an event I found out about through a press release. The free event takes place monthly on second Saturdays, beginning in the summertime and continues on through the fall and winter months.
Wow! Talk about blown away. The performers were outstanding!
Headlining was twenty-three year old insanely talented violinist Tony B. Williams (Tony B) from Las Vegas, who energetically hit the stage diversifying his classical instrument infused with R&B and Hip-hop. One of my favorites was a brilliant cover of the singer Weeknd's popular tune "Earned It." The timing, control and quality of his artistry was impeccable.  Check him out here on youtube.
Another amazing local vocalist to hit the stage was Diamond Hamilton, a Michigan native who's rich, deep vocal style emulated Lalah Hathaway.
The lively outdoor concert presented by husband and wife, Kevin and Tanishia Hamilton of Southwest Soul Circuit, a music production team that specializes in festivals, live stage shows and studio recordings.  The Hamilton's, both talented musicians in their own right, shared the stage as back-up to the guest performers.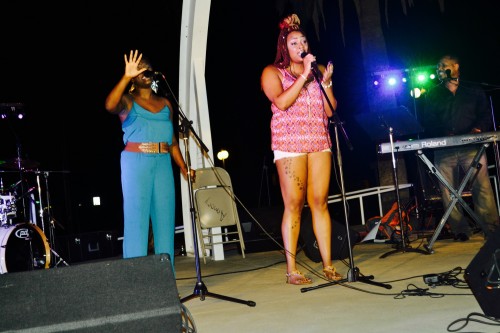 The concerts are filmed live and later televised as part of Sumthin' Live, a musical variety show produced by Southwest Soul Circuit.  The weekly show airs Friday nights on Tucson's local channel KOLD 13.
So, if you're in the Tucson area and want to hear live soul music, we highly recommend checking out Soul Music at Armory Park during Second Saturdays, located downtown from 7-10pm.  Click on link for more information on Southwest Soul Circuit.