Having a good stuffing mix for me,  always has to stand out at the thanksgiving table. Its a very classic recipe that can save a dry turkey, and bring the whole meal together. This recipe calls for corn bread crumbles made of your favorite recipe or found at your local supermarket.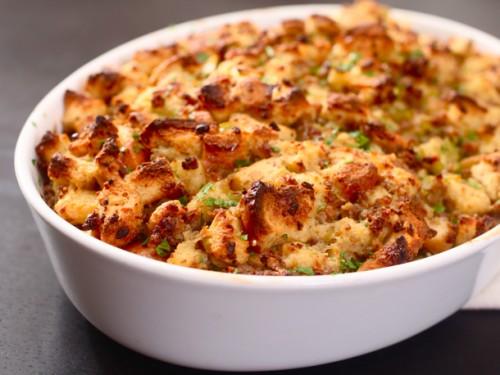 Ingredients:
1/2 cup butter
3 cups diced celery
2 cups diced sweet onions
1/2 cup finely chopped fresh sage
Cornbread Crumbles
3 cups soft, fresh breadcrumbs
4 large eggs, lightly beaten
7 cups chicken broth
1 tablespoon freshly ground pepper
Recipe contributed by  Charles DeJesus
Directions:
1. Preheat oven to 400°. Melt butter in a large skillet over medium-high heat; add celery and onions, and sauté for 5 to 6 minutes or until onions are tender. Stir in sage, and sauté 1 minute.
2. Stir together Cornbread Crumbles and breadcrumbs in a large bowl. Stir in eggs, next 2 ingredients, and celery mixture, stirring until blended. Divide cornbread mixture between 1 lightly greased 13- x 9-inch baking dish and 1 lightly greased 8-inch square baking dish.
3. Bake at 400° for 45 to 55 minutes or until set and golden brown.
Earlier this year, we attended a Meet The Chefs in Del Mar, hosted by Casa De Amparo. Of the many delightful sweet and savory food tastiness offered,  the flavorful, buttery sweet potato casserole was one of my favorites, a perfect Thanksgiving side dish.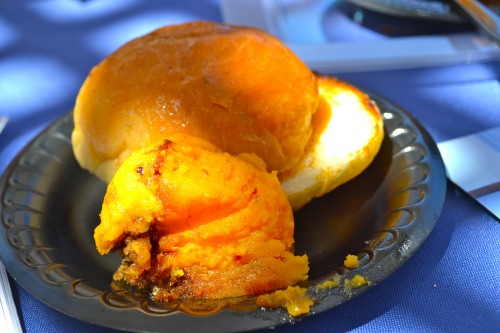 Ingredients
3 cups mashed sweet potatoes

1 cup of sugar

1/2 teaspoon of salt

1 cup brown sugar

2 eggs, well beaten

1 teaspoon vanilla

1 1/3 stick of melted butter

1/3 cup flour
Instructions
Create the crust first by combining brown sugar, flour, chopped nuts and 1/3 stick of melted butter in large mixing bowl, then set aside.
Create sweet potato mixture next by adding, in this order–mashed sweet potatoes, sugar, salt, vanilla, well beaten eggs and 1 stick of butter. Next, pour mixture into a buttered baking dish.  Sprinkle the surface evenly with the crust mixture you set aside and bake for 30 minutes at 350 degrees F.
Allow for at least 30 minutes before serving.
Recipe courtesy of Sous Chef Antonio (Tigre) Ortiz, Ruth's Chris Steak House Del Mar.