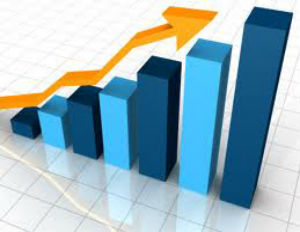 Stock Markets started Q2 with a whimper, certainly not with a bang, ending the week lower with global weakness getting more and more noticeable. These last few sessions, it's been up then down then up again.  Almost like a cheap carnival ride; by the way, when do I get to collect a big, overstuffed, counterfeit Garfield from dealing with this nausea?   The media hyped and announced, blind rush into stocks and the full retreat out of bonds didn't materialize.   The stock market euphoria is still there, but like a winded athlete, it's bent over and gasping for as much air as it can inhale.
I'm expecting to perceive the proverbial canary in a coal mine with U.S. small caps.  The last three sessions have begun to indicate some significant weakness.  The underperformance in the Russell 2000 has raised my eyebrows, given that small-cap stocks are more profoundly tied to domestic growth prospects than the large-caps.  Large caps get to leverage their global coverage, Small caps, not so much.  Their market capitalization of between $300 million and $2 billion doesn't allow much wiggle room during domestic economic weakness and therefor, basically neutering the opportunity to beat institutional investors.  Small caps closed down last week by almost 3%.  That sets my alarm bells off and I'll be watching how the U.S. Treasuries perform this week.  I'm expecting a decent uptick as large investors, looking for safety via low yield, move in that direction with a definable quickness.   Last week's very poor job's numbers also didn't help; with an overall feeling that growth is slowing and the economy remains flimsy.
I remain optimistic.  In 2011 and 2012, each had outstanding first quarters which dovetailed into lousy 2nd quarters.  Also similar are the earnings forecast from those previous years and 2013 Q1's haven't been the most inspiring thus far; nevertheless the actuals have yet to begin to truly filter out.  That begins tonight with the Alcoa release.  Corporate earnings will be the decisive catalyst once again.  Stocks, I believe, will remain exuberant and bond holders will endure worrisome but not panicked circumstances.  I do not sense any overbearing fear for the global markets, unless you happen to reside near the Korean Peninsula, and even then, having served in the US Army right smack on the DMZ, most of the bloviating coming from North Korea is just that.  North Korea knows it would be suicide to let even a minor conflict begin.  The regime of Kim Jong Un can't sustain a prolonged engagement alone and China and Russia certainly do not want to have Western forces sitting on their eastern borders, as the resolution of conflict would present.  I remain cautions, confident and optimistic.
Much success in all that you do.
Contributing writer, Dempster R. "Bobby" Cherry is an
Investment Advisor with
Nelson Securities, Inc.