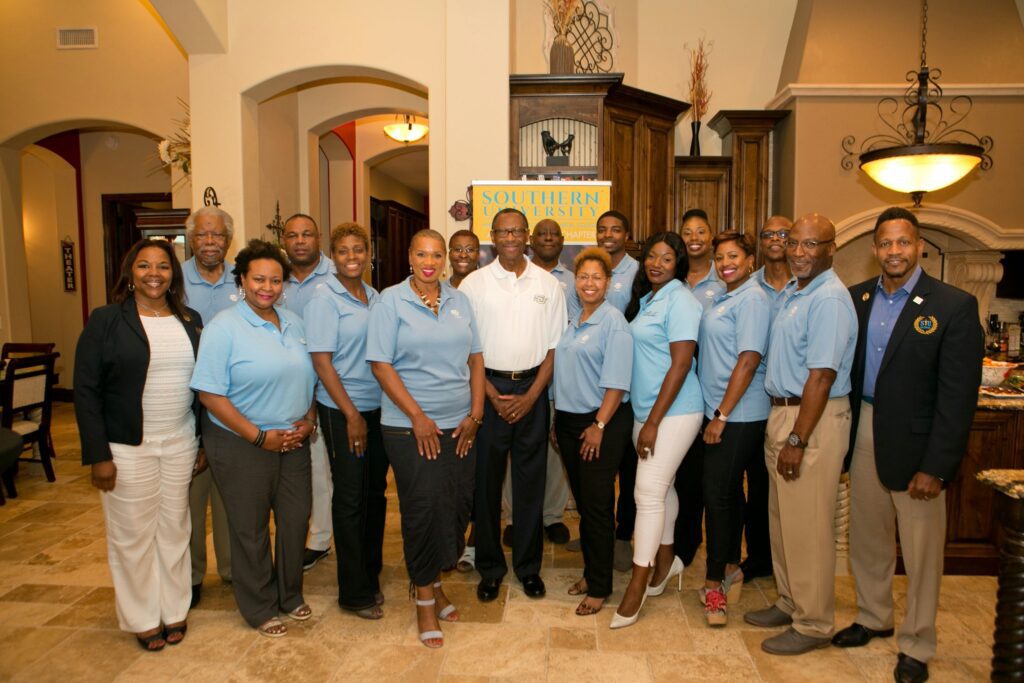 By DL White
Southern University by vehicle is 21.2 hours south east of Arizona, approximately 1448.9 miles, however, enthusiasm and school spirit travels and stand the test of time, as alums of the Columbia blue and gold are loud and proud representing in the Grand Canyon state.
Recently, the Southern University Alumni Federation – AZ Chapter (SUAF-AC) hosted their annual "Jags on the Green" Golf Tournament (JOTGGT) and Reception, Saturday, April 22, and 'one might say it was a 'Hole in One,' as reported by Dr. Loretta Cheeks, Stanley White and Ray Moore, all alum's and active participants in SUAF-AC events.
Founded in 1880 in New Orleans via a land grant as Southern University for Colored Students, today, SU is the largest HBCU in Louisiana, and is a member of the Thurgood Marshall College System and a flagship member of the SU college system.
With a total student enrollment of over 15,000 students on its three (3) campuses from Shreveport (north) to Baton Rouge (se) and New Orleans, Southern University ranks as a top institution of higher learning with six (6) degree-planning colleges and a law school.
The JOTGGT attracted 75 enthusiastic golfer's, who were greeted by 20 volunteers and alums, who teed it up on the scenic and picturques Oakwood Golf Course and La Palma Estate, in Chandler, to support the SUAF-AC Excel Scholarship Fund.
SUAF – AC was organized in May 2018 and formally chartered and recognized as an official alumni federation in July 2019, with the stated goal and mission focused on student recruitment, outreach, and fellowship and awarding scholarships to deserving students desiring to attend Southern University.
The Jags on the Greens Golf Tournament was a four-person scramble, with prizes awarded to the first-place team of William Crutchfield, Lawyer Davis, Jose Gonzales, and Greg Sistek with a score of 52.
Not far behind, just two strokes off the pace with a score of (54) was the team of Nate Anderson, John McEwen, Tony Williams, and Brandon Spencer.
Also of note, Pat Crawford was the "long drive" winner with Carl Davenport, Kelo Makelele and James Brown finishing one to three in the 'closet to the pin' challenge.
The reception, which followed the tournament, was an opportunity for guests to fellowship with the SUAF-AC Alumni, event participants, as well distinguished faculty in attendance: Dr. Dennis J. Shields, President-Chancellor of the Southern University and A&M College System (SUS) (located in Louisiana), and Dr. Aubra J. Gantt, Chancellor of Southern University – Shreveport Louisiana (SUSLA).
JOTGGT has proven to be an exciting and equally viable event for the -AZ Chapter, annually leveraging critical financial support for Arizona based students who attend Southern University and A&M College.
The event annually attracts alumni and supporters of the institution from across the country, and this year's turnout was no exception.
"The importance of alumni support for institutions such as Southern University cannot be overstated.
"Alumni play a vital role in the success of the university by providing financial support, volunteering their time and expertise, and serving as advocates for the institution in their communities," a sentiment held by all Jag Alums without question.
"I am thrilled with the success of this year's Jags on the Green event, and it is a testament to the unwavering dedication and commitment of the SUAF-AZ Chapter and the community support of education," said Carl Davenport, the Jags on the Green Golf Tournament Coordinator.
"The funds raised from this event will help provide financial assistance to deserving students and contribute to the continued growth and success of the institution," Davenport concluded.
"The Jags on the Green Scholarship Fundraiser was a success and we were delighted to recognize the significant contributions of Dr. Shields, Dr. Gantt, Alfred Harrell, CEO of the SUS Foundation, and Attorney Edwin Shorty, SUS Board of Supervisors, during the honorary reception," said Tony Williams, President of the SUAF-AC.
"Their dedication and leadership have been instrumental in advancing the mission of Southern University and inspiring future generations of students." The reception provided an opportunity to celebrate their achievements, express gratitude for their service and connect to the broader Arizona community.


For more information regarding the Southern University AZ Federation, AZ Chapter you are encouraged to visit SUAF – Arizona Chapter www.suafac.org to learn about the mission of the organization.
Notable: Much appreciation to Dr. Cheeks, Ray Moore, and Stanley White, for contributing valuable information for this article. Go Jags!