If you're looking for a brunch place with a cool atmosphere, The Patio on Goldfinch is the spot. Located in Mission Hills, off of Washington Street this is the second Patio restaurant in San Diego, with the first being located in Pacific Beach.
I must admit, we were impressed as soon as we walked through the door. Between the warm welcome from the staff, to the coolest playlist heard through the sound system, at that point we figured that we were off to a good start.
As we followed the waiter over to our table to be seated, the vibe of the eatery which opened its doors in June of 2014, my best description is a combination of classy-cool. The exquisitely chic interior décor, the cozy fire place seating up front, the greenery covering a wall near the fire place and the back wall, add coziness to the stylish place. Towards the back dining area and to the side, is an open kitchen where customers can see the chef and staff preparing food. It's actually a very cool sight!
Once we were seated, we started off by ordering bottomless mimosas.  I already knew what I wanted to order because, I  checked out the menu online and the french toast looked incredible. Keep in mind, my decision was based on the pretty picture on The Patio's Instagram page. Truth be told, I'm really a pancake fanatic. Now, I like french toast, but pancakes always hits the spot for me.
That said, once the waiter came back to take our order, just that quick, I switched and decided to get all faithful and order pancakes.  Admittedly, when I saw the french toast order go to another table, I had my regrets. Mainly, because I wanted a pretty picture for our Instagram page.
My husband on the other hand, decided to go with the shrimp and grits.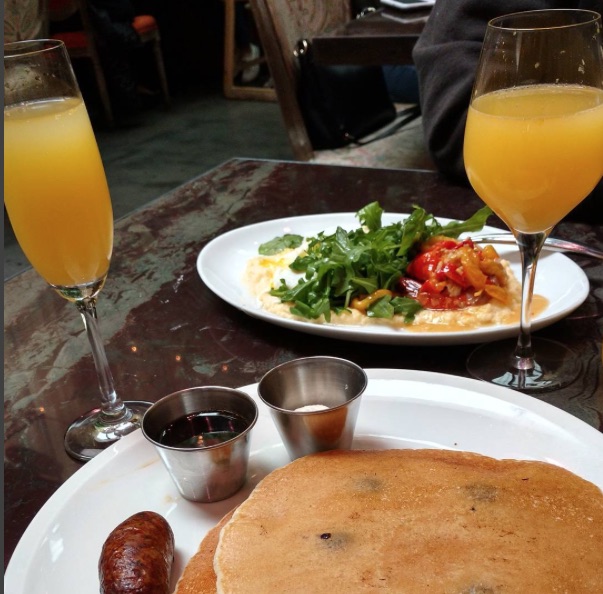 While we waited for our order, the General Manager Jeff, a tall and very pleasant man with glasses, stopped by to chat for a bit and to let us know that he was helping out on the floor.  He asked if we needed anything.  We told him that our order had been taken. Next,  I decided to ask him who was responsible for the awesome playlist of music. Which incidentally was a mix of Chaka Khan, including her old Rufus days, Sly and The Family Stone, James Brown, Ohio Players, just to name a few.  He answered, "That's me. I create the list from Spotify. And, this morning, I wanted to hear some Sly. I love Sly and Funk music."  He also shared that on any given day, the play list could be different.
I'm not sure about ya'll, but listening to good music while dining out creates a wonderful atmosphere. And, on that particular Sunday, we were in luck thanks to Jeff's taste in music.  We were happy as can be, brunchin' to Funk music.
Once our food arrived, the shrimp and grits looked amazing! I could hardly wait to taste them. The entree consist of 3 pieces of decent sized shrimp, smoked cheddar grits, spicy butter sauce and bell peppers. Now, the portion size could have been bigger, in terms of more grits and at least one more shrimp, but the presentation and overall taste was excellent!
As for the pancakes, eh well, remember that look I mentioned earlier? The perfect picture that I was looking to post on Instagram, well my pancakes didn't quite make the cut. But, let me just say the taste was incredible! Once I my fork cut into the buttermilk pancakes, you could see the blueberries ooze out.  And, once I placed them inside of my mouth I could taste the blueberry and lemon flavor. Man oh man, they were delicious! Especially topped with butter and, drenched in maple syrup. My mouth is starting to water just thinking about the taste.
Other than the serving size of the shrimp and grits, for our bellies, we really enjoyed brunch at the Patio.
That warm, classy-cool vibe, chic décor, with the added bonus of dining to R&B and Funk music, makes the Patio a solid choice for Sunday Brunch day.
Next time, I plan on ordering that French Toast. I need that Instagram pic!
The lunch and dinner menu both look pretty darn good too!
The Patio on Goldfinch is located at 4020 Goldfinch St., Mission Hills, for more information visit thepatioongoldfinch.com.