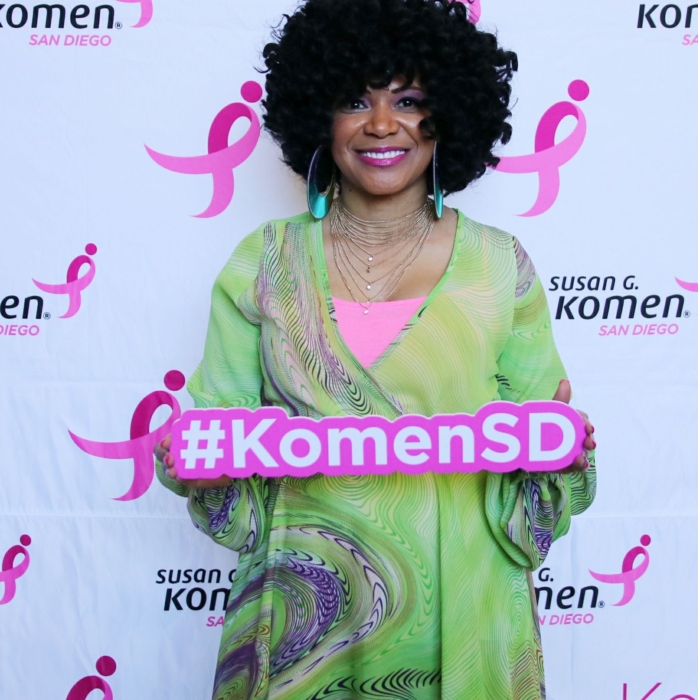 San Diego (February 24, 2018)- Over 100 Women of Color joined Susan G. Komen San Diego's Circle of Promise Fashion Show and Breast Health Luncheon. Honoring women affected by breast cancer, the event titled  "Many Shades of Pink," is the brainchild of survivor and community resource advocate Wendy Shurelds, who just happened to be one of the fashion designers.  The free event that included lunch was held at AMN Healthcare located in beautiful Del Mar Heights area.
Upon arrival, women took photo's behind a pink Komen San Diego backdrop. After taking photo's, the women walked inside of the atrium/lobby area to hear the soothing sounds of  innovative jazz harpist Mariea Antoinette.
Before and after the fashion show, the ladies had an opportunity to shop at local vendors booths, which primarily included accessories—hats and jewelry.
The host for the event was breast cancer survivor, Stevie Flowers, who kept the audience uplifted and inspired, as she shared her journey of successfully recovering from stage 4 breast cancer.
Prior to the fashion show, retired physician Suzanne Afflalo, .M.D,  who continues to work tirelessly in the Black Community as an advocate to eliminate health disparities through community outreach, presented the audience with facts and statistics on breast cancer risk factors.
"Research shows African American women have a 41 percent higher mortality rate than their Caucasian counterparts, while some factors can be linked to genetic differences, others relate to lifestyle choices, access to care and later stage of breast cancer detection."

"African -American women are more likely than white women to get Triple Negative Breast Cancer TNBC, which partly explains the disparity seen in mortality for African-American women."
Fashion designer's work that worked the stage include:  Stephanie Ugochi Iwuaba, Wendy Shurelds, Tanya Jenkins (Nea eshe) and Kotton Kandy Co.
At the end of the event, singer-songwriter Ken Turner, serenaded the ladies with a cover of John Legend's, "You and I-Nobody in the World."
As you may have guessed, there wasn't a dry eye in the room.
The positive event concluded with raffle prizes, more shopping and a healthy lunch.  We need more events like "Many Shades of Pink."