(San Diego, CA) Susan G Komen San Diego, the County's largest provider of free breast cancer treatments, services and support, in partnership with San Diego Black Health Associates and Assemblymember Shirley Weber, is set to hold its inaugural Circle of Promise Day event on Saturday, Aug. 1 from 7:00 a.m. to 11:00 a.m.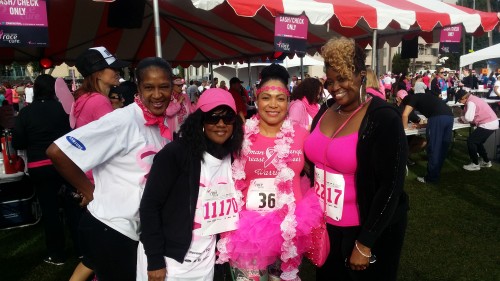 The event will include a one mile community walk and educational program at Chollas Lake Park located at 6350 College Grove Dr. San Diego, Calif. The event aims to encourage African American women in our local community to get breast cancer screenings, be more proactive about their breast health and encourage at least ten women in their "circle" to do the same.
The event is part of a statewide initiative to decrease the high mortality rate of breast cancer among African American women. This will be achieved through community organizing practices to increase system efficiency and access to quality care, as well as support for targeted awareness, direct education, screening and other resources. August 1 has been declared "Circle of Promise Day" in the State of California thanks in part to the efforts of the California Legislative Black Caucus (CLBC).
Breast cancer is the second leading cause of cancer related deaths among African American women, exceeded only by lung cancer. Although incidence rates are lower, African American women suffer significantly higher mortality rates, 41 percent higher than their Caucasian female counterparts. For women without health coverage, the burden is even higher – uninsured women have a 30 to 50 percent increased risk of dying from breast cancer than those with insurance. 
Specific objectives of the Circle of Promise Initiative are to:
Provide a mammogram to least 2,000 women and permanently improve access to community health networks. 

Provide high quality breast cancer education and medical services to a community of women where one does not currently exist.

Provide a permanent safety-net infrastructure through community collaboration.

Enhance community partnerships, with far-reaching and enduring results.

Navigate individual women into a medical home so that they will gain access to knowledge and resources that will serve them throughout their lifetime.

Improve systems of care and mobilize all women to make breast health a priority.
"As we embark upon the second year of the Initiative, we are on track to achieve our goal of getting 2,000 African American women across the state screened. Since the launch of the Initiative in April 2014, we have reached a total of 11,000 African American women through one-on-one outreach, small group engagement, community events, and education presentations," said Monica Nelson, community resource advocate of Susan G. Komen San Diego. In addition, the Circle of Promise Initiative's local efforts in San Diego thus far have resulted in reaching, supporting, and engaging women in the following way:
8,241 African American women, in general, have received local breast health information.

490 African American women have scheduled a mammogram screening appointment.

595 African American women have completed a mammogram screening.
"The Circle of Promise Day initiative is crucial to informing African American women in our community about the importance of getting mammograms," said Nelson. "Through the support of our community partners we hope to reach more African American women than ever before, and ultimately save lives. That is the goal." 
Other event supporters include Jimbo's…Naturally! and Starbucks. The Initiative, launched by the seven California affiliates of Susan G. Komen, is funded in part by a grant from Anthem Blue Cross Foundation, L.L.C.