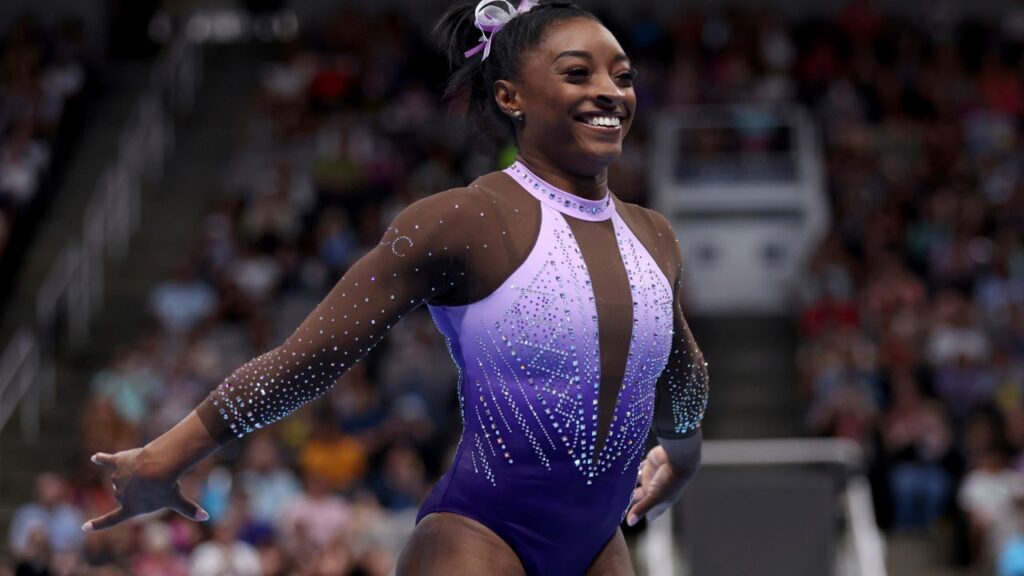 By DL White
A well known dictum (saying) suggest, "He (or she) who laughs last, laughs longest)" Include smile as well, because Simone Biles, the diminutive in size (4'8) gymnast came out gigantic during the US Gymnastic Classic competition held in Hoffman Estates, Illinois, August 5-6, ……….smiling all the way!
Not that anyone was laughing at Biles' however, there was much chatter following the way the decorated gymnast left the stage during her last competition.
Biles last appearance in competition came during the Tokyo Olympics when she withdrew as a result of not being in sync with her body and notably (mind) when attempting to perform her signature twist moves.
After a two year departure from the sport she has dominated since stepping on a mat, working on herself and finding a life partner and getting married, the winner of (25) world medals and (7) Olympic medals including gold, Simone performed as if she had never left the sport and with the youthful drive gymnast in their teens process. Biles is 26.
Simone punched her ticket to for the US National Gymnatistics Championships later in August at the SAP Center in San Jose, California.
Mark it early August, and Olympic gold medalist Simone Biles came fully loaded and did not disappoint as she left her much younger competitors in her wake.
Simone, with the heart of the champion she is, and has proven to be over the years, demonstrated that she is one (if not the) greatest gymnasts of all time by posting scores of (15.4) in the vault, (14.9) in the floor exercise, (14.8) on the balance beam, and (14.0) on the uneven bars.
Those marks earned her first place in the all-around competition, the vault, floor routine, and balance beam. After such a performance, Simone's performance on the uneven bars (14.0) did not diminish her all around effort.
Responding to the over audience of applause and enthusiastic response to her effort, Simone noted, "Tears of joy as I make this comeback, surrounded by the love you've shown….Thank you for believing in me," Simone shared on a Social Media sight Sunday evening after the event concluded.
Simone's husband Jonathan Owens, a strong safety for the Green Bay Packers of the NFL, in training camp for the upcoming season, shared the following….via social media, "So damn proud of you baby, makes my day seeing you so happy and back doing what you love, and having FUN," he wrote.
"It felt really good, especially after everything that's happened over the past year," Shared Biles referencing the mental and physical challenges of competing and her struggles with the "twists" back in 2021.
"Everyone that was cheering, made posters and all that in the crowd, it just made my heart melt that they still believe in me. And I got back out here and I did what I was training so very hard do so I'm very happy with the result," Simone shared.
"I always kind of knew, as soon as everything that happened in Tokyo. So this time, I'm doing it for me," she continued. "I worked a lot on myself, and I believe in myself a little bit more, just coming back out here and starting the first steps again."
When asked about her about her Olympic aspirations, Biles didn't definitively say she's planning on going to Paris in 2024. She left that to the imagination of everyone spellbound by her tremendous performance.
"We're still in the working steps," shared Biles, smiling all the while and adding, "My main goal was this, and then championships. And then after that, we'll look onto World, and then we'll see, but so far it's heading in the right direction. But I still have to work on myself; I'm still going to do my therapy. I'm still going to put myself first."
Notable: BIles would not commit to questions about whether she plans to compete in her third Olympic competition slated for Paris in 2024. Paris is said to be for lovers, and Simone and hubby J. Owens just might make it a summer to remember…..Time will tell.
---
Danny L. White  currently lives in Phoenix, AZ.  He is the author and creative lead for the Sensational letter "S", a children's book focused on early reading comprehension and word development. He is also a Adjunct faculty member at Maricopa College, and staff reporter for the Arizona Informant.  He is an active member of Omega Psi Phi Fraternity, Inc, in Phoenix.