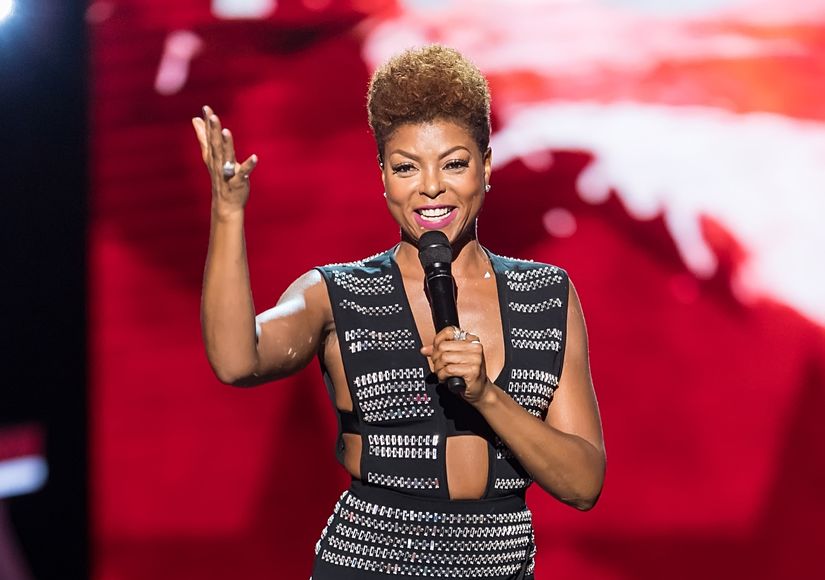 ---
Taraji P. Henson rocked a shorter 'do and a sexy cut-down-to-there dress as she hosted BET's "Black Girls Rock" in New York City. In an interview with "Extra" who caught up with the "Empire" star, she dished on her new look and the fourth season of her hit FOX series "Empire," about which she dropped the juicy hint, "A lot of flashbacks of Cookie in jail, a lot of flashbacks."
Also in the interview, Taraji tells Extra that she gets to kick some butt in her new movie "Proud Mary," saying, "I'm so excited about that one, whooooooooo!"
She says that she's also looking forward to celebrating her 47th birthday next month in style, laughing and saying, "I've rented a yacht. I like to treat myself."
The actress  says that she is still searching for a man to treat her right, recently posting what she is looking for on social media, including love, respect and protection.
She commented, "If I could find one man that could do all of those things, I would be a very blessed woman."
As for what inspired her new hair, Taraji shared, "I was just, i just needed to be free, I wanted to get my natural curl back… I just wanted to do it, so I did it and I'm here and I love it."
Check out "Extra" for more from the fabulous Taraji P. Henson.
"Empire" returns to Fox on September 27 at 8 p.m.