Great wine begins in the vineyard somewhere between January and March as the season matures. If all goes well and the season ends as it did in 2013 in Sonoma, there will be a collective sigh of relief and another legacy of great wines will have revealed itself.
There is cause for celebration as all 400+ wineries in 16 Sonoma AVA Districts are praising the exceptional quality of the grapes.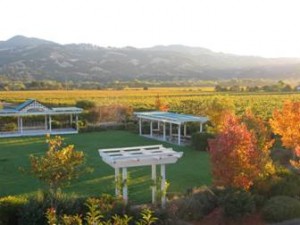 Wine Country that stuns the senses. 
If you visit, we recommend you taste the wines, enjoy the restaurants without the summer crowds and pick out a few smaller towns for the history and ambience of early Sonoma. Some wineries to try:
Rs Wine Company ( R Squared).  Brothers Richard and Roger Roessler have a mission to create wines that are an expression of their place of origin and taste great.  Their winery is just a short walk from Sonoma Square.  You will love their Gold Medal winner 2011 Black Pinot Noir. It's a deep ruby red color and fills the glass with ripe cherry and earthy aromas.  Note the long, silky finish. r2winecompany.com.
Arrowhead Winery.  Arrowhead hits the target with its 2006 Arrowhead Cabernet Sauvignon, a harmonious blend of berry fruits, notes of cedar and well integrated tannins.  Arrowheadwinery.com.
Bella Vineyards. In the heart of Dry Creek Valley, try the 2010 Zinfandel Rocky Ridge, with intense aromas and flavors of plum, blackberries and cassis with silky tannins.  Don't miss the wine caves.  bellawinery.com.
Ferrari-Carano.  Founded in Dry Creek Valley in 1981 by Don and Rhonda Carano, the gardens are gorgeous and the wines are known worldwide.  The 2009 Tresor ( aptly named for Treasure), is a favorite, blended and barrel aged in French Oak for 19 months for fruit intensity.  Lingering sweet notes of dark chocolate add great depth.  ferrari-carano.com.
Anaba.  A  small boutique family owned winery operated by wind turbine.  Their 2010 Pinot Noir on the Sonoma Coast is a perfectly placed deep colored wine with notes of tobacco, currants, blackberry and mocha.  Anabawines.com.
Sonoma is one of the world's premier wine growing regions of artisan winemaking.  Learn more at sonomawine.com.

Searsucker a Social Wine & Dine Experience
First located in San Diego in 2010, this socialized dining phenom founded by local celebrity chef Brian Malarkey, is now Searsucker's second restaurant, in the Del Mar Heights area.
GM Nick Baker was all smiles with the local families that have flocked in.  "This was a Burlap Restaurant that catered to the bar scene.  Now, families feel comfortable coming to dinner here.  We moved the bar to the back, and it does great there, but we needed a lot more restaurant space.  We created a kids menu.  We have a big koi pond with a viewing area.  We're serving American comfort food and now customers are coming in several times a month." 
The wine menu is decidedly California style with emphasis on Pinot Noirs, Cabernets and Chardonnay.  Wine picks included a Sauvignon Blanc from NapaValley and a Riesling from Washington as a lead-in to the star of the night, matching up with a snappy cherry and almond garnished Salmon, the 2011 Sonoma Coast Merry Edwards Pinot Noir. 
Searsucker serves lunch and dinner, with Brunch on Sundays. A daily Happy Hour takes ½ off the small bites menu, at the bar.  See more at searsucker.com.
Frank Mangio is a renowned San Diego wine connoisseur certified by Wine Spectator.
He is one of the leading commentators on the web.  View and link up with his columns at www.tasteofwinetv.com.  Reach him at [email protected].