If there's anyone food item that goes hand and hand with Thanksgiving dinner in our household, that's Mac N Cheese.
FYI:  I'm here to tell you that there are plenty of folks out there who will pile their plates so high with this savory cheesy dish, there's no room left for anything else, myself included.
We suggest try making room on your plate and serve these mini mac and cheese pies as an hor D'oevres.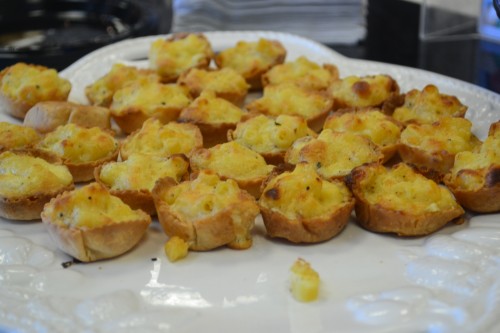 1 1/2 cups crushed butter crackers (about 35 crackers) (recommended: Ritz)
2 cups grated Cheddar, divided
4 tablespoons (1/2 stick) unsalted butter, melted, plus 2 tablespoons cold unsalted butter, cut into pieces
4 cups cooked elbow macaroni (about 8 ounces uncooked), drained and kept hot
2 large eggs, beaten
1/2 cup milk
1/4 cup sour cream
1/4 teaspoon salt
Directions
Preheat the oven to 350 degrees F. Lightly grease 8 cups of a 12-cup muffin pan.
In a bowl, combine the crackers, 1 cup of the Cheddar and the melted butter. Divide the mixture among the prepared muffin cups and press firmly into the bottom and up the sides.
In a large bowl, mix the macaroni with 1/2 cup of the Cheddar. In a small bowl, combine the eggs, milk, sour cream, cold butter pieces, and salt. Stir the milk mixture into the macaroni.
Spoon 2 tablespoons of the macaroni mixture into each cracker crust and top with the remaining Cheddar. Bake until the cheese is browned and slightly crispy, about 25 minutes. Allow the pies to cool slightly before un-molding and serving warm.