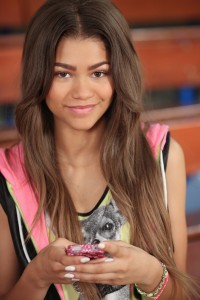 Multi-talented recording artist/actress Zendaya ("Dancing with the Stars," "Shake It Up"), headlines the comedic Disney Channel Original Movie "Zapped," the story of Zoey, a girl whose well-ordered life is up-ended when her mother remarries and she finds herself part of a family composed of rambunctious, chaotic – and most of all – messy boys and a male dog, to boot. She finds salvation in the unlikeliest of places when she unwittingly comes into possession of a smartphone app that magically controls boys. Spencer Boldman (Disney XD's "Lab Rats") stars as Jackson, the one guy at school who stands apart from everyone else. 
"Zapped" premieres FRIDAY, JUNE 27 (8:00 p.m., ET/PT) on Disney Channel, ushering in the premiere of the highly-anticipated "Girl Meets World" (9:45 p.m., ET/PT), a comedy series for kids and families from executive producer Michael Jacobs ("Boy Meets World").
Beginning Thursday, May 29, kids and families can visit DisneyChannel.com/zapped  to play the new Zapped game and control the smartphone that controls the boys.
We'll be watching!
Source:  Press release.